Need some daily recognition ideas to keep it fresh? Here are 10 everyday employee recognition ideas to get you going!
1. Choose a recognition theme for the year. To jump start your year-long appreciation events, choose a recognition theme. Your theme will make your appreciation more consistent and effective. Introduce the theme to the team by giving them a themed lapel pin they can wear at the beginning of the year.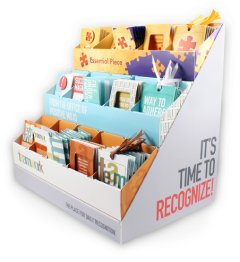 2. Create an appreciation center. Providing the tools for recognition is the best way to encourage recognition in your organization. Create an area in the office where all staff can access thank you cards, buttons, and other small giveaways. The Cheers Kit and Caboodle is perfect for schools and gives you three different recognition sentiments.
3. Train recognition champions. To keep recognition alive and strong, it will need champions! Train managers and key staff members to be recognition champions. They will manage the recognition program, encourage others to recognize, and keep the departments stocked with recognition gifts.
4. Implement peer recognition. Peer recognition gets the company involved in recognition and is a great way to sing the praises of your team members! Use the Shout Outs peer recognition program and post all your notes on a public bulletin board.
5. Send an ePraise. Let employees know you appreciate them by sending ePraise, a thank you ecard, throughout the year! You can send one in less than 5 minutes, and it doesn't cost anything!
6. Surprise appreciation. Spontaneous appreciation is very memorable and effective for the recipient. Randomly surprise your team with a handwritten note explaining why you enjoy working with them, or a small gift you know they will enjoy.
7. Design a recognition program. A formalized recognition program will stay front of mind for all staff. You can use Tokens of Appreciation or Milestone Charms as small gifts that everyone can collect. Periodically, they can turn in their tokens for prizes, like a special parking space, gift card, or time off.
8. Brighten a staff meeting. Make a staff meeting more fun by providing snacks and refreshments. Use colorful paper plates and napkins to make the meeting feel more festive.
9. Traveling trophy. Create a traveling trophy for your departments or entire organization. It can be a symbolic item or a stuffed animal version of your mascot. Each week, present the traveling trophy to a different team member for going above and beyond. By the end of the year, everyone should have earned the trophy for a week!
10. Peel and stick recognition. Post a small note of appreciation in a mailbox or at their desk. The peel and stick recognition note set has a fun sentiment already on it, so all you have to do is sign your name!