What kind of gift do you give someone who appears to have it all? When thinking of
gifts for doctors
, that may be your greatest challenge. As accomplished professionals, what could you possibly give a doctor that they don't already have!?
Remember, a gift doesn't have to be expensive or extravagant in order to express your appreciation and gratitude. There are two rules to remember when giving gifts: make it personal and be sincere. These rules apply to gifts for doctors! Add your own personal touch to make the gift memorable for your recipient.
Here are 10 ideas for your next doctor's gift that will wow your recipient.
1. Executive Pen Set.
An
Executive Carbon Fiber Pen Gift Set
that can be personalized with the doctor's name and practice will leave a lasting impression. This gift set includes two matching pens that the doctor can use at work or home.
2. Gift Card to a Favorite Restaurant. Treat your favorite doctor to a night out with a friend or spouse. Ask the nurse or receptionist in the doctor's office about her favorite restaurant. Place the gift card in a greeting card and mail it to the doctor at the office.
3. Perpetual Calendar.
These gifts for doctors encourage organization and are attractive enough to be displayed on a desk. Add the doctor's name and your personal message to the sleek silver cover of the
Perpetual Calendar Organizer
for a unique gift perfect for the holidays,
Doctor's Day
, or just to say thanks.
4. Treats for the Entire Office. Bring in a platter of bagels from a local bakery or homemade cookies to your doctor's office as a thank you gift. The doctor will be able to enjoy the treat and share it with the rest of the staff.
5. Professional Portfolio.
Continuing education is an important part of a doctor's career, and gifts for doctors that support learning will be used and cherished. Before the doctor leaves for a conference or seminar, present a
Portfolio
as a gift. For a personal touch, tuck a handwritten card into one of the many pockets for him to read later.
6. Desktop Award.
Sometimes it's best to show your appreciation with a commemorative award. Select a
plaque
or
crystal award
for your doctor that includes your personal message of appreciation. The beautiful award will be proudly displayed on their desk!
7. Coffee Mug and Gift Card.
Hot cups of coffee always make great gifts for doctors! Express your thanks by filling a new
travel coffee mug
with a package of coffee beans for home brewing or a gift card to a local coffee shop.
8. Engraved Picture Frame for their Desk.
Doctors often work long and irregular hours which means they are missing their families. An
engraved picture frame
will quickly become a cherished gift where they can display a picture of their loved ones at work.
9. Vehicle Safety Kit.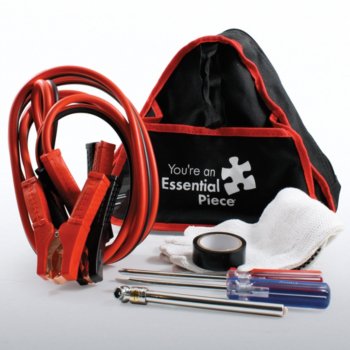 Practical gifts for doctors are always appreciated –busy professionals will appreciate the added convenience your gift offers! This
vehicle safety kit
makes sure your doctor is prepared in case of an emergency.
10. Classic Clock.
Let your doctor know your appreciation is timeless by giving a classic
clock
as a gift. Clocks can be personalized with the doctor's name and your personal message, so your gift will serve as a reminder of your gratitude.