Boss's Day takes place annually on October 16, and it's a great opportunity to give your boss some much needed appreciation. Recognize your boss with a small gift that is personalized to his or her interests.
Here are our 25 Boss's Day gift ideas that will please your boss:
1. Make your boss's favorite baked-good item - or pick it up from a local bakery!

2. Get an item related to your boss's hobby, such as a new accessories or gift certificate to a specialty store.

3. Order a personalized gift with your boss's name engraved on it.

4. Take your boss out to lunch at his/her favorite restaurant.

5. An executive pen will help your boss exude style in his next meeting.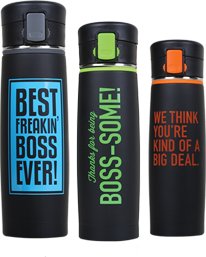 6. Bring in your boss's favorite coffee drink in the morning, or one surprise them with one of our
Coffee Lover Gift Sets
.
7. Give a
stainless steel travel mug
that will keep your boss's coffee hot and fresh for hours.
8. Find a fun
desktop toy
that will help reduce stress.
9. Treat your boss to an ice cream cone or fro-yo after lunch.
10. Gift an
engraved picture frame
that can hold a personal photo.
11. Pick up a gift certificate to a favorite restaurant your boss can enjoy with a friend or spouse.
12. Bring your boss bagels or donuts for breakfast in the morning.
13. Choose a
portfolio
for your boss to carry to meetings.
14. Make a donation in your boss's name to her favorite charity or alma mater.
15.Collaborate with the team to create a gift basket full of treats and goodies your boss will enjoy, like small snacks, gum, magazines, or a book from a favorite author.
16. A
desktop clock
from the entire team will commemorate Boss's Day.
17. Pick out a
silver or novelty business card holder
, an executive gift that is stylish and useful.
18. Shop for a game or toy for your boss to enjoy with his or her family.
19. Does your boss usually pack her lunch? Treat her to a new
lunch bag
.
20. Select a
perpetual calendar
for your boss's desktop that promotes a leadership message.
21. Order tickets to a sports event, theater performance, or concert.
22.Bring your boss a bouquet of flowers or a potted house plant.
23.Get your boss a gift card to the movie theater so they can go see a new release they have been waiting for!
24.If your boss is crazy about his or her car, buy a car detailing package from a local dealership. Working with a small budget? Wash the car yourself!
25.Fill a glass jar with your boss's favorite kind of candy or snack that he can keep on his desk. Include an extra bag of treats to make this gift extra special!