Regular recognition lets employees know they're valued and reinforces desired behaviors. When you reward specific behaviors, those behaviors will be repeated and performances will improve. Plus, your workplace culture will be more positive, fun and inviting for both current and future employees.
To be most effective at improving your culture, employee engagement and retention, managers should give employees regular recognition for their contributions. Expressing sincere and frequent appreciation is as easy as having the right manager's tools on hand. Here are some of our top picks of recognition tools that will give managers a fresh start with their employees in the New Year..
Unsure which recognition tool is right for you? Visit Baudville.com and take our Recognition Tool Finder quiz to receive recommendations especially for you!

Cheers Kits – One of the keys to regular employee recognition is having accessibility to the right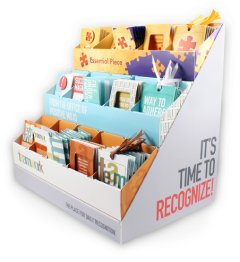 tools. Keep a Cheers Kit in the theme of your choice on your desk, so recognition is always within reach. For the greatest value, write your note of thanks and appreciation on the note and take the time to personally deliver it. This gesture will let the employee know how much she's valued.
Tokens of Appreciation – A manager should reinforce desired behaviors, even the small ones. Tokens of Appreciation are appropriate tools for recognizing the small things employees do everyday. Managers should keep a Token Manager and be prepared to give on-the-spot recognition.
Manager's Greeting Card Kit – The manager has an important role in setting the tone for the team. To keep things positive, use our Manager Greeting Card Kit to remember important employee milestones, like birthdays and anniversaries. Managers will always have the right card available to recognize the moment.
Recognition Survival Kit – Mangers that need help getting into the habit of daily recognition will appreciate this tool. The handy tool offers a variety of recognition items that can be helpful to keep on hand for any recognition moment!
Quick Tips
Managers using the Cheers Kit have endless possibilities for giving thanks and praise! Here are some of our favorite ideas.
- Make a New Years resolution to give one note to an employee each day.
- Surprise employees with a Cheers Note Frame on each of their desks first thing in the morning.
- Deliver your note through inter-office mail.
- Recognize an entire team by giving a different themed note to each individual.
- Place a Caboodle in a central location and encourage peer-to-peer recognition.
- Watch employees collect and display their notes with pride!
Best Practices
A Baudville customer shares how the Cheers Kit is a simple and time-effective way to recognize staff!
"What a cute and simple way to recognize day-to-day accomplishments! I use the Cheers Kit to let my staff members know that I appreciate their efforts and notice when they go above and beyond, or to encourage them when work gets stressful. There is just enough space to write a quick message, meaning that I don't get bogged down writing the 'perfect' thank you!"