Create a "Wow" Moment with These Simple Steps!
Maybe you already have an awards program in place, or you're looking to create one from the ground up. Either way, you know how important it is to get it right: from selecting an award that's appropriate for the occasion, to presenting it in a way that's genuine, meaningful, and truly an honor to the recipient. As a company that not only makes awards, but also has a lot of practice giving them, we can help.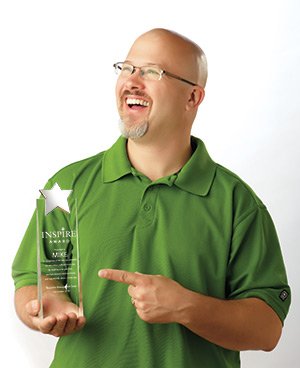 Every year at Baudville, we present two different, equally coveted awards: the Inspire Award and the Luminary Award. Selected by our top leadership, Inspire Award winners have performed at such a high level that they have caught the attention of and thoroughly impressed the CEO, CFO, and VPs alike. It is quite the honor!

No less significant, our Luminary Award is a peer-nominated award given to the individual who best exemplifies Baudville's core values. We know that acknowledgement by colleagues is a key element to any successful recognition program, as it fosters mutual respect, appreciation for others, and camaraderie among all team members.

Both awards are announced at our Year End Party, and our presenters always make extra efforts to prepare so the award presentation is truly special for the recipients.

Why prepare? Well, if you're going to go to the trouble of selecting your honorees and choosing the perfect awards to highlight their important achievements, you need your award presentation to match the momentousness of the occasion. Here's how our experts at the 'ville do it:

Gather Information.
For the award presentation to feel meaningful, the presenter should share some personal notes about the recipient. Knowing his or her history with the company, including milestones achieved, is a good start. But what about outside of work? What fun facts can you divulge that will show everyone you know what's special about your awardee?

Spotlight the Achievement(s).
Giving a clear reason for the award is essential. "She's just great!" or "He's the best!" just won't do here. By focusing on the specific behaviors and accomplishments of the individual, you send a message of what's important to your organization. Your recipient will know what to keep on doing, and his or her colleagues will know what to do to be the next big honoree.

Say Thank You.
In the end, it's all about the appreciation. Your award recipients are being recognized because they have benefitted your business in a tangible way. Their success is your success, after all. Show your heartfelt gratitude with a smile and a handshake and you have the perfect end to what will surely be a perfect award presentation!

Now that you know what to do, it's time to select your awards. Take a look at these recommended products to get some ideas:

- Jade Glass Trophies: These are hands-down our bestselling trophies. They look elegant and sophisticated (and expensive!), yet they are incredibly affordable.

- Crystalline Tower Trophies: We've chosen these for our Inspire Awards because they're beautiful, high-end trophies for highly-accomplished individuals.

- Engrave Any Story: Who says an award has to be a trophy? Our Engrave Any Story items feature your favorite Character Story and personalization, so you can give a useful gift as well as an award.

- Certificate Bundles: Maybe you are giving awards to a large group? Our Certificate Bundles contain all the components you need to create 50 finished awards—and they save you $40 over buying each piece individually!

---
Free Resources:
When you're looking for ideas, you can never have too much information! Check out these additional tools, downloads, and articles.

- Free Download: - Award Presentation Guide
- Free Download: Tell Us About You Form
- From the Blog: Hit the Mark with Your Next Award Presentation
- From the Blog: Five Ways to Freshen Up Your Award Ceremony