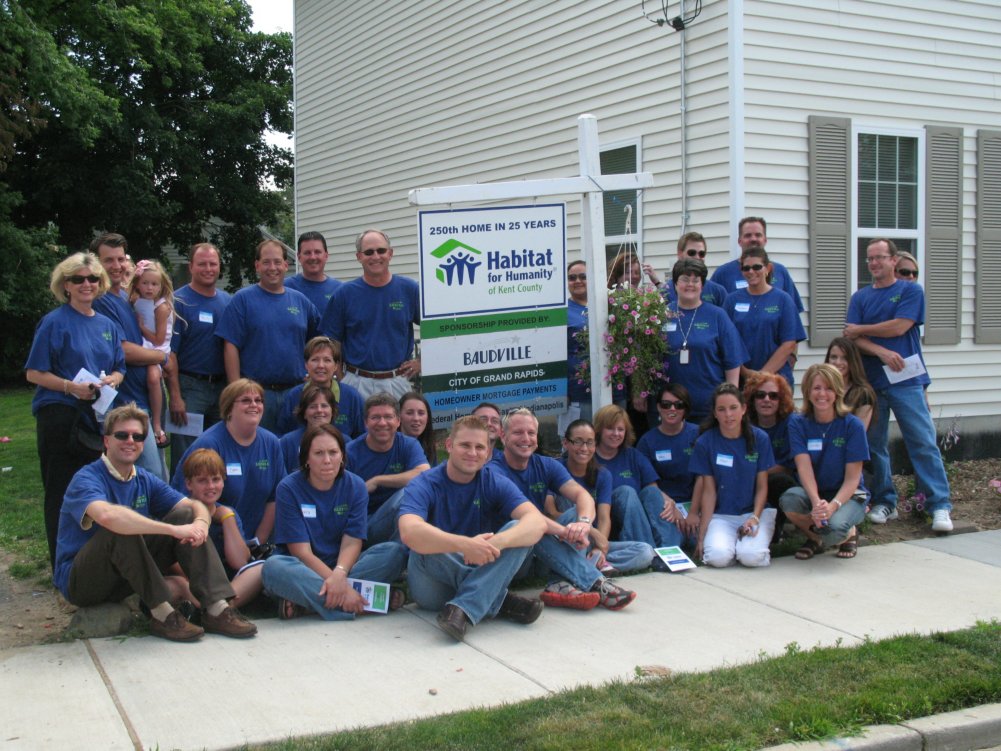 Companies frequently celebrate corporate milestone accomplishments, such as sales goals, service years, and a successful busy season. Don't feel like these celebrations have to be the standard, expected corporate party though. When it comes to honoring a significant corporate milestone, the only limit you have is your imagination.

The primary guideline you have to follow when planning a corporate milestone celebration is to make it meaningful to the participants: your employees. Baudville commemorated its 25th anniversary in a own special way to honor our employees. After all, without them the company couldn't be successful.

Since Baudville has always been an involved member of the community, we decided to do something that would recognize and strengthen our community commitments. Rather than have the typical corporate milestone party or give out gifts, we decided to be the sole sponsor of a Habitat for Humanity home right here in Grand Rapids and give all our employees the opportunity to volunteer at the house.

Our employees found the opportunity to volunteer a meaningful way to celebrate our corporate milestone. Employees spend more time at their workplaces than anywhere else. Providing them with the opportunity to pursue a personal interest – volunteering – was very valuable. After we made the announcement about our partnership with Habitat for Humanity, many employees expressed how excited they were because they've always wanted to volunteer in the community but hadn't been able to. It was ultimately a gift of time.

Making it Fun & Memorable
Community involvements can be a memorable way to commemorate a corporate milestone. Here are a few ways Baudville made the experience special for its employees:
The community involvement opportunities were announced at an after hours all staff reception.
All employees received special t-shirts to wear onsite that sported both the Baudville and Habitat for Humanity logos.
A shuttle to and from the worksite transported volunteer crews.
The morning shuttle included a special stop for donuts.
Senior company leadership personally delivered lunch.
A camera was sent each day with the team to participate in a team photo competition.
The Benefits
Giving employees community involvement opportunities adds to their pride in the company. Although employees may know the company does charitable giving throughout the year, community involvement opportunities are tangible. Employees can see and be a part of this partnership.

When employees volunteer, create teams by mixing up different departments, managers and employees. Have employees work alongside people they may not know well. At the end of the day, everyone will have had a valuable team building experience. At Baudville, the resulting camaraderie throughout our building was evident as the teams shared pictures from their day at the house site. Stories about the weather and tasks they accomplished floated through the air. All employees took pride in their work at the house, in their team, and in their company.

Community involvement as employee recognition benefits everyone involved and is a creative and appropriate way to celebrate a corporate milestone. As company, you impact your community in a powerful way. You don't have to travel half way across the globe to make a difference. Any local charity will be thrilled to have another corporate partner. It also inspires your employees to get more involved with community involvement initiatives outside of work. It's a great experience for employees that has very little cost to the company.