Volunteers give their time for many different reasons, and you're grateful they do! Your organization would not look the same without the countless hours volunteers contribute. Show your appreciation by giving a
volunteer gift
. Your gift doesn't have to cost a lot! The expression of sincere appreciation is worth more than the monetary value.
Tip: Reinforce your organization's mission and instill pride in your volunteers by incorporating your organization's brand and logo in the gift!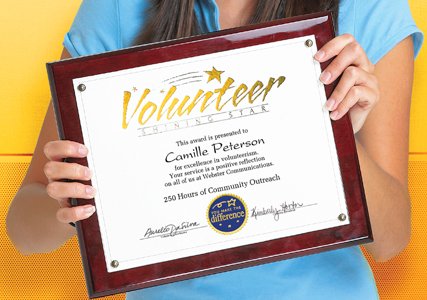 1. Award Certificate:
Thank volunteers for their service with an
award certificate
. Although it may not feel like a
volunteer gift
, the symbolic value of the certificate makes it special to the recipient. Personalize the verse yourself and include the volunteer's name, hours of service, date, and signatures by leaders in your organization.
2. Organization T-shirts: A t-shirt with your organization's logo is a great volunteer gift! Design the t-shirt to promote your logo and add a quote to the back about the joys of volunteering. The volunteers will feel proud to wear the shirt as a symbol of their contributions, and your organization will get free publicity, too!
3. Photo Album:
Show your volunteers how much their service makes a difference by taking pictures of them in action. At the end of the year or during National Volunteer Appreciation Week, compile all the pictures in a photo album (you can buy these at the dollar store!). Depending on your budget, you could display a favorite picture in an
Engraved Photo Frame
for a meaningful
volunteer gift
they will cherish for years.
4. Potted Plant: Let your volunteers know your appreciation for them only grow by presenting them with a potted plant. Make this volunteer gift more personal by decorating the pot or adding a small flag to the plant with a popsicle stick and a print out. Add a note to the back of the flag and personalize it to the individual recipient.
5. Homemade Note Cards: Get crafty by making a set of note cards for your volunteers! If you have a graphic designer on staff, ask them to use your organization's brand style, colors, and logo in the design and have the cards printed locally. You can also make the cards by hand with a small supply of crafting materials. Consider getting others involved, too, such as the children or individuals who benefit from your volunteers' service. Consider using children's artwork for the cards.