Baudville's Tokens of Appreciation are designed to be used on a regular basis to recognize and reward behaviors and performances. Tokens of Appreciation come in twelve different recognition themes and can be personalized by adding a name or logo to the back of each token.
After showing the tokens to attendees at SHRM, we received a lot of feedback about using them in a "save and redeem" recognition program. In this type of program, employees collect tokens and later turn them in to "buy" recognition gifts predetermined by managers.
These programs are very popular thanks to the flexibility they offer both managers and employees. We've outlined four steps you can follow to get a Tokens of Appreciation save and redeem program up and running in no time!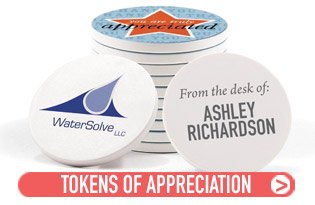 1. Create the System
First, decide how many tokens employees will need to redeem for recognition gifts. For example, five tokens may be redeemed for a snack or beverage of the employee's choice. To ensure program success, ask your employees what they think is fair. If you design a save and redeem program that makes it difficult to collect recognition gifts, employees may give up on it before you've awarded your first token.
2. Communicate
Next, communicate the system to employees. You can add a document to your intranet or hang posters around the office to remind employees how many tokens they need to collect. Describe the recognition gift options – in detail. Employees will be most interested in what gifts they can earn.
3. Give & Display
Make sure you have a variety of themed tokens ready to give, so you can recognize behaviors with an appropriate sentiment. Provide your employees with a way to display their tokens, too. Our magnetic photo frame is very popular and proudly displays token collections.
4. Seek Feedback
Finally, you should constantly seek employee feedback. We guarantee employees will have ideas for new recognition gifts, different ways to display the tokens, new uses for tokens, etc. Employees are your best source of new ideas, and implementing their suggestions will maintain enthusiasm and participation for the program.
Quick Tips
Tokens of Appreciation can be a powerful day-to-day recognition tool and motivator. Follow these quick tips to get the most bang for your buck out of your tokens!
Give a Token of Appreciation whenever you give verbal or public recognition. It will reinforce the recognition!
Include a handwritten note with your token. It will be more personal to the individual!
Personalize your tokens by adding your name. It will make them more memorable!
Make sure all managers have their own tokens. It will make the recognition more fun!
Best Practices
One Baudville customer integrated tokens into her workplace culture in a clever way!
A childcare and learning center integrated Tokens of Appreciation into its culture as the primary way to recognize staff members. The executive director has a collection of tokens that she gives to employees to recognize their good work. When she wants to recognize someone, she puts a token in a glass fishbowl.
The glass bowl acts as a trophy, and everyone can see who has received recognition. Plus, it reminds the director to do daily recognition. She can easily see which employees have recently been recognized and who may need some reinforcement. When the bowl is full of tokens, the employee gets a recognition gift!