RECOGNITION AT WORK NEWSLETTER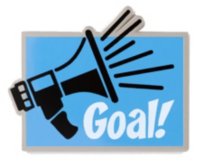 From time to time, we like to check in with our customers to make sure we're meeting, and, with some hope, exceeding your needs. Last fall, we conducted a survey of a large pool of our loyal fans—and, it turns out, there's a lot more we could be doing!
When it came to the pain points section, we started to see some trends in your responses. Like, "I love your products, but I don't know what I'd do with them." Or, "My recognition program is failing because it's hard to treat my team fairly." Or, "I believe in the importance of employee recognition, but I can't get my managers or company leadership on board." Well, what good are we as experts if we can't help you solve these issues?
We listened to your wishes and conjured up the Idea Genie—a benevolent being who wears many hats and lives to serve your most troubling workplace needs.
1. Do You Have a Limited Budget?
Poof! Our Idea Genie quickly transforms into the
Dollar Genie
to help you find affordable ways to recognize your team.
2. Are You Unsure What to Give?
You like what you see, but you're having trouble seeing it in action.
Ask the Genie
to grant you some inspiration with these tried and true ideas.
3. Do You Need Help Getting Managers' Buy-In?
Sometimes it's your department managers who need a little recognition encouragement. Partner with our
Teamwork Genie
to give them a nudge in the right direction.
4. Do You Need to Get Buy-In from Company Leadership?
Learn from the
Value Genie
how to sell the importance of recognition to your CEOs and CFOs.
5. Are You Unsure How to Recognize Your Team?
From celebrating big days to the everyday, our
How-To Genie
will teach you how to do it all.
6. Do You Need Tips on How to Present Awards?
If you want to start an awards program, or need ideas on how to make yours the best it can be, shake hands with our
Award Genie
.
7. Do You Want Your Team to Feel Appreciated?
Our
Thanks Genie
will help you find ways to give recognition that's personal to each individual.
8. Are You Too Busy to Give Employee Recognition?
The words "busy" and "manager" go hand in hand, which is why our
Easy Genie
is here to give
you
a hand!
9. Do You Want to Have More Participation in Company Events?
If you're struggling to get people excited about your internal activities, enlist the
Fun Genie
to be your cheerleader.
10. Are You Struggling to Treat Everyone Fairly?
Our
Happy Genie
will teach you the ABCs of giving recognition that highlights everyone's unique qualities.