In these modern times, it isn't as common to work for a company for 40 years and then retire. But, even if it's the first, fifth, or tenth job in our career, we're all going to retire from it eventually. With that in mind, think about this: when you retire, how would you like to be commemorated?
If you're planning a retirement celebration for one of your employees, consider that this is a time of emotion, nostalgia, and excitement for what's to come next. The kind of celebration you have should represent the weight of this moment, while also being suitable to the person and the number of years they've given to your organization. Picking out the perfect gift is part of that, too!
Here are our top five retirement gifts, ranging from traditional, to sophisticated, to contemporary:
An engraved plaque is a classic parting gift your older generations will treasure. For retirement, our Anniversary Gift Set is ideal, because you can engrave the years of service as well as a special message—either one of our pre-written verses or your own. The set also comes with a coordinating lapel pin and gold-accented pen, all neatly tucked in a beautiful black gift box. What a presentation!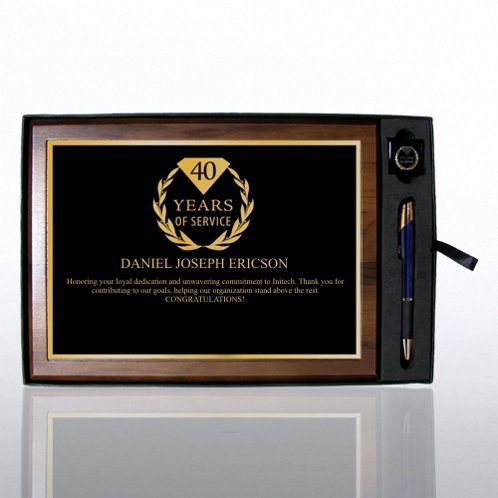 If you're looking for a practical, yet polished, retirement gift, you'll find it in our Executive Carbon Fiber Pen Set. Two gorgeous, sleek pens—one rollerball; one ballpoint—come in a brushed silver tin. You can choose a favorite Character Story to imprint on the lid, plus add three lines of personalization. You are Truly Appreciated, Making the Difference Starfish, and Excellence are some of our favorite retiree themes.

Chances are, your recent retirees won't be sitting at home watching the clock, but that doesn't mean our Executive Crystal Skeleton Clock won't make an ideal going away gift. On their desks or mantels, this clock is an elegant reminder of your appreciation for their years of dedication. Plus you can have it engraved with a name, years of service, and date, for a personalized touch.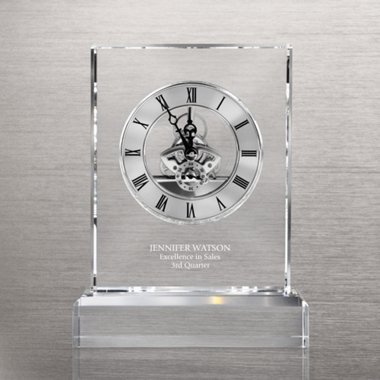 Even after they leave the working world, many retirees still like to stay connected—with former colleagues, with people in the community, and with hobby groups. Give them a stylish Leather Padfolio to take with them wherever they go. You can add a graphic title and personalization, so they'll always have a memento of their time with your organization.

Maybe you're looking for a more casual retirement gift, but one that will still hold value and memories. Our Jade with Metal Photo Frame displays a favorite photo, plus personalized text on the base. Choose a graphic title to add, too: years of service or another special sentiment.

Like these ideas, but want to see more retirement gifts? Shop our full collections of engraved plaques, executive gifts, service awards, and trophies.