RECOGNITION AT WORK NEWSLETTER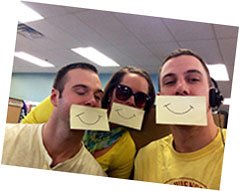 Today, we measure a great workplace not only by how well it gives employees the right balance of work, play, benefits, and opportunities, but also by how much it gives back to the community. In some of the most successful examples, these elements blend so seamlessly that it's hard to distinguish one from the other. That's what we're continually working on at Baudville, and we're excited to share some of the ways we're making it happen—and how you can, too!
Giving + Giggling
. In 2011,
Gilda's Club Grand Rapids
launched the first
LaughFest
—a 10-day festival celebrating "laughter for the health of it." This event definitely caught our attention, and we knew we had to get involved. This year, we pooled our creative resources and donated
ID badges and lanyards
, grinning memo clips, and 3,000 specially-designed sunglasses that LaughFest used to break the
Guinness Book World Record
for most sunglasses worn at night. We also had our own internal goofy-face-making, yellow-duds-sporting photo challenge, and awarded the winners tickets to LaughFest's opening night after party. You might not have a LaughFest in your neck of the woods, but that doesn't mean you can't combine giving and giggling. You could have a fundraising drive for your chosen charity and give comedy club tickets to the highest earner. Or, like we did last fall, raise funds with a
management team dunk tank
. That was a lot of laughs!
Amusement + Appreciation.
When you add entertainment to your employee appreciation (whether it's an event or an everyday occasion), you make the moment so much more memorable. Few of our employees will forget how it felt (or what it looked like!) to play the
Elephant Ring
game on Employee Appreciation Day. Wearing pantyhose on our heads at work is just not something that happens very often! Most every activity we do here, we make a game of it. Why? Because it makes it not only unforgettable, it offers the perfect mix of participation, healthy competition, and enjoyment.
Flexibility + Fun.
Finding the right work-life balance is on many employees' minds, and, because of that, on employers' minds, too. For some, that may mean having the freedom to dress down on a hectic day, coming in to work late or early once in a while, or getting away from the office for a nourishing lunch. These perks are typically no cost or low cost, which makes them possible for most organizations to offer. During Employee Appreciation Day, we gave away a prize every hour to randomly-selected employees. These ranged from
casual days
to paid time off to a free lunch—easy to give and incredibly valuable to our staff! We made these surprise giveaways a part of the day's entertainment, but they work just as well as rewards for a job well done or as an expression of you appreciation. Try them the next time you want to say "thanks!"
The link between all of these initiatives is the infusion of fun. It's been proven to work for us, and it can for you, too!