Let your new teammate know they made a great decision when they decided to join your team! Use a few of these welcome ideas to welcome employees and make sure they feel at home on day one.
1. Be prepared for arrival. Make sure her workstation is prepared, and she has the office supplies needed to do her job. Add something fun, like colorful post-it notes, for a personal touch.

2. Educate her on the history of the company. Inform the employee about how your company got started, its values and goals for the future. Show a company video or pictures from past events to demonstrate your culture.

3. Create a welcome certificate. Invite the entire team to sign a certificate to welcome employees. Present the certificate in a certificate folder on the first day for a grand welcome.

4. Have a buddy program. Ask an employee in the same department to invite the new employee to lunch on her first day. This employee can be a buddy who teaches the new teammate what printer to use, how to send a fax, etc.

5. Give a welcome gift. Starting a new job can be daunting. Make the day a little more comfortable and friendly with a small gift at the employee's desk. A coffee mug and journal are great gifts to welcome employees. Corporate branded items are great, too.

6. Send a greeting card to the family. An employee can't perform without the support of her family. Send a welcome greeting card to her home to welcome the whole gang to the company.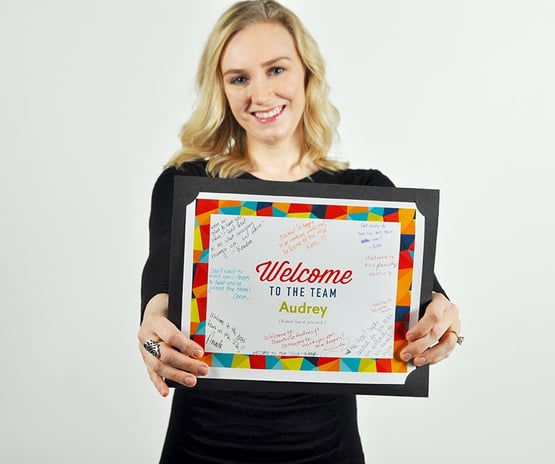 7. Welcome certificate Don't wait for a milestone achievement to let the employee know you appreciate her contributions. At the end of the week, give her a small token of appreciation and a thank you note to recognize all her hard work in her first days.
Does your organization have some great ideas to welcome employees? Send your great idea to us at recognition@baudville.com.

Welcoming Gen Y Important for Retention
Your organization is being infused with them: iPod carrying, Internet surfing, praise junkies otherwise known as Generation Y. The members of Gen Y have received a lot of attention for the way they're impacting the workplace, and as more twenty-something workers enter organizations, it's necessary to acknowledge their unique characteristics early in order to retain them.
Gen Y members are used to receiving praise for milestones and accomplishments, which in their minds, happen regularly. To retain Gen Y members, begin recognizing right away. Celebrate the first day at the organization, the first week, even the first month by sending notes of praise to the new team member. Communicate your appreciation in ways Gen Y will respond to: email, text messages, and notes on their Facebook page.
Feedback and recognition are so important to this generation of workers, that experts predict workplaces will begin practices of "instant feedback" to keep them motivated and engaged. Be ahead of the trend by communicating feedback to your Gen Y co-workers right from the start and keep them for good!
Recognition Best Practices
The best way to keep recognition creative and fresh at your organization is to stay up to date with what your peers are doing! Send in your submission for Recognition Best Practices, and you could be our next Best Practice Winner featured in next month's Recognition Report!
This month's shared experience comes from Virginia who shared how much recognition can mean to a dedicated teacher. Thanks for sharing the great story, Virginia!
"In February, our freshmen write about someone who made a difference in their lives in
grammar school. We contact those people and invite them to a "You Make a Difference" Day at Kearney High School in the spring. They reunite with their students and receive gifts from your " You Make the Difference theme products. One of the honorees told me that she had been a teacher for 32 years, and never been thanked. Your products went a long way that afternoon!"
Quick Tips
Welcoming Employees
It doesn't have to take a lot to welcome employees on the first day. Baudville has been welcoming its new employees in very special ways over the last 25 years. Take a few hints from us for your own organization:

- Send an email prior to the new employee's start date announcing his/her arrival and a little information about the new team member.
- A week prior to the new employee's arrival, have the entire department sign a welcome greeting card or certificate .
- On the start day, post a color sign welcoming the new employee on a public bulletin board.
- Give the employee a welcome gift. Choose a gift set from Baudville or create your own combining motivational gifts and corporate branded gear.
Want more content like this? Subscribe to our emails!