In the age of e-mail, e-cards and text messaging, the hand written thank you note is considered by some to be a thing of the past. On the contrary! A hand written thank you note can have a lasting effect on the recipient and a positive impact in your workplace. A thank you note is reinforcement for a specific behavior or action. Sending a thank you note can improve the frequency and quality of a performance or behavior by letting the individual know their work was noticed and appreciated.

Be equipped to write great thank you notes! Store a small inventory of thank you note cards at your work station. Put them in a space where you will regularly see them. This will act as a reminder to say "thank you" on a regular basis. To encourage yourself and your managers to write thank you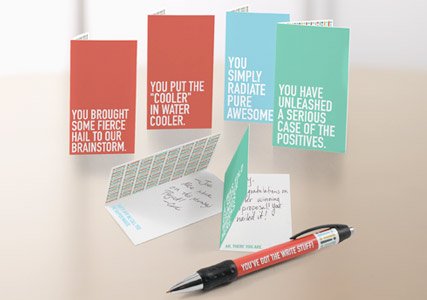 notes more frequently, set a goal for yourself to write a certain number of thank you notes each week.

A thank you note done correctly will often remain displayed at an associate's desk for weeks or months after it is received. Be sure to deliver the thank you note in a timely manner – shortly after the behavior is demonstrated. The best time to recognize an achievement is while the achievement is still fresh in the individual's mind.
To make your thank you notes meaningful, follow these tips:
Always use blue or black ink. It gives your thank you note a more professional appearance.

Begin with the recipient's name.

Say "Thank you."

Be specific about the action or behavior you are recognizing.
"The extra hours you put in…" or "Your positive attitude…"

Discuss the impact of the behavior or action.
"Your effort and dedication made the project a great success." or "Your creative thinking saved the company time and resources."

Connect the behavior to the company's goals and mission.
"Thanks to you, we're sure to meet our goals!"

Say "Thank you" again.

Wrap up your thank you note with an appropriate sign off.
"Keep up the great work." or "Cheers."

Sign your name.
Team Building Activity
Thank You Pocket Praise goes Public

Objective: Recognize individuals who have served on your team or a board of directors and are moving on.
Participants Required: Limited to who is on your team or board.
Time: 5 minutes preparation; 15-20 for presentation.
Supplies: Thank you assortment Pocket Praise cards.

Instructions:
1. Select an individual who has completed her role on your team or your board of directors.
2. In advance of the recognition ceremony, distribute one thank you Pocket Praise card to every member of your team or board who worked with this individual. ask them to complete the card before the meeting.
3. At the recognition ceremony, ask the honoree to sit in a prominent place.
4. Tell a story about her that recalls a memorable experience you have had with her.
5. Ask her to share what she has gained or found most enjoyable about working on the team or board.
6. One by one, invite the team or board members to present their Pocket Praise cards, either reading the content aloud, or just giving the card to the honoree.
7. Present all the cards to the honoree. Ask for a standing ovation!

* This activity is featured our in Team Up! ebook.

Shared Experience
This shared experience comes to us from Kathryn Nelson of Blue Fish Pediatrics in St. Louis, Missouri. Thank you for sharing this unique tip, Kathryn!

"When I came aboard this practice, I started a habit of ending every office meeting with some sort of fun game. We recently did a Baby Contest. Everyone brought in a baby picture. I posted them on a board and next to them I wrote a saying that identified who is who. For example, one of my nurses knows everything regarding old movie trivia, the actors and the plot. So next to her baby picture, I wrote "The name of that movie is_____, the star of the movie is_____" etc. It was a lot of fun, and everyone loved playing the game. A grand prize was given to the winner as well."

Kathryn Nelson
- Office Manager of Blue Fish Pediatrics