Teams are an important part of our work lives, so keep your team healthy with these fun team building tips! Host an activity or event for your team once a month to keep everyone engaged and working well together.
Boost Front Lines and Bottom Lines. Creating shared experiences for your team boosts both morale and the bottom line. Research shows that happy employees have a positive impact on an organization's revenue and customer satisfaction. Improve employee morale by creating an atmosphere open communication, trust, respect, and fun.
Turn the Tables. For a change, have supervisors cater to their employees for a day or for a special project. Supervisors at a South Carolina Parks and Recreation Department cook a pancake breakfast for the whole staff at their annual off-site gathering.
Fun Feedback and Kudos. Send small tokens of appreciation generously and often. Recognize the good things people do on a continual basis with a Pocket Praise, Token of Appreciation, or candies.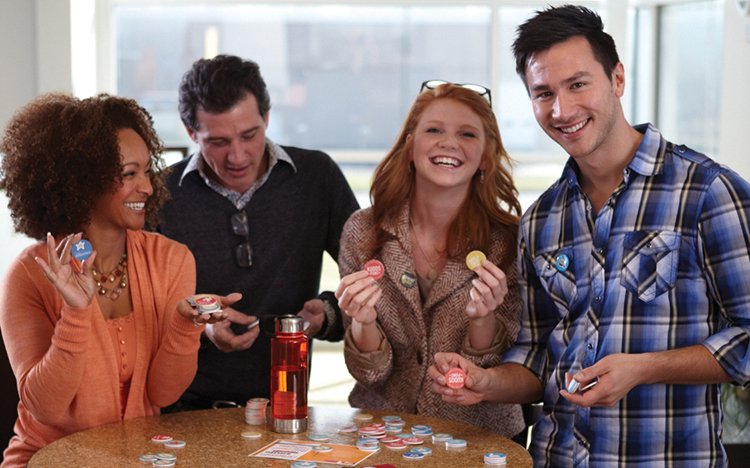 Engage and Entertain. Actively involve workers in the policies that will affect them. Instead of writing copious memos addressing the dress code violations, one hospital hosted a fashion police show. They recruited models from different departments to walk the runway in appropriate and not-so-appropriate attire while the fashion police in the audience voted on what was allowable or not. Exaggerate the "don'ts" to make your point.
Perks to Perk Up Your Work Day. Onsite extras offer ways to make the workday more enjoyable. For example, sponsor a mid-week treat at 2:30pm each Wednesday; provide wellness tips and brown bag lunch talks; host Technology Tuesday each week to share info on the newest trend or gadget.
Mascot Madness. Create a mascot for your department, adopt it as your representative, bring it to meetings, or dress it up for the holidays. Kidnap the other department's mascot and hold it for ransom, complete with a ransom note, and photos of it tied to the train tracks.
Playful Professionalism. Start meetings on a positive note with good news or something upbeat or funny to entire people to continue the tone. Have the group create funny consequences as a playful method of addressing those who arrive late, such as doing 3 push-ups, singing a nursery rhyme or tap dancing. Each idea can be pulled out of a jar, so every consequence is unique.
Personalized Position Nameplate. Allow each person to create a different twist to their official title, and put that title on their desktop nameplate to bring a hint of humor and a sense of ownership to their position. Invite the team to a brainstorming session to create titles that state value to the customer. For example, The Queen of First Impressions (for a receptionist); Chief Idea Officer (for a marketing manager); and Director of Numerical Organization (for accounting).
Location, Location, Location. Meet someplace besides the conference room to gain a new perspective and think differently, such as on the swings at a nearby park. The stimuli that are in variable surroundings generate more ideas than the usual office space. Being at a playground or at an arcade gives us permission to think creatively in our problem-solving modes.
Food=Fun. Everyone loves to have food in the office! Host a regular potluck breakfast or BBQ lunch to learn more about the people and the foods they bring. Go with a theme day or ask everyone to bring in a favorite family recipe.