Customer Service Week is the first full week of October, and it's an important time to recognize your service personnel. Giving a gift is a meaningful way to express your appreciation. The gift remains a lasting reminder of your appreciation during Customer Service Week and throughout the year. Read our Non-Cash Recognition White Paper for more information on the importance of gift giving!

It's best to start planning early for Customer Service Week and be sure to think about your gift from the beginning. To inspire you, we've put together a list of our top ten favorite Customer Service Week gifts.

1. Twist Top Tumblers for the Team. These travel cups are all the rage, and everyone on your Customer Service team will love them! Select a Twist Top Tumbler in the theme of your choice or create a custom design just for your organization. For an extra special treat, fill your tumbler will candy and surprise the recipient!


2. Fuel Up with Coffee. In many offices, coffee is the fuel that keeps everyone moving – at all times of the day! Outfit your team for their next coffee craving by giving everyone a new travel or ceramic coffee mug. Make the gift a bigger part of your Customer Service Week celebration by setting up a special coffee, tea, and hot chocolate bar. Bring in marshmallows, creamers, and flavored syrups to get the day off to a sweet start!

3. Sweeten the Deal with Candy. Is it possible to find a piece of candy in your office at any given moment? Then give candy as your Customer Service Week gifts. Check out our individually packaged Sweet Treat containers for a ready-to-give gift. You can even center your entire celebration on candy with a chocolate factory or Candy Land theme!

4. Carry On with Bags and Totes. There's no such thing as too many bags! Tote bags and lunch coolers are practical gifts your team will use both in and out of the office. As Customer Service Week gifts, make sure your tote reflects the theme of your celebration.

5. Encourage Your Team to "Write On" with Journals. Present each member of your team with a new journal for Customer Service Week gifts that they can use in meetings. An attractive journal can make employees stand a little taller when they're sitting in a meeting with peers and managers.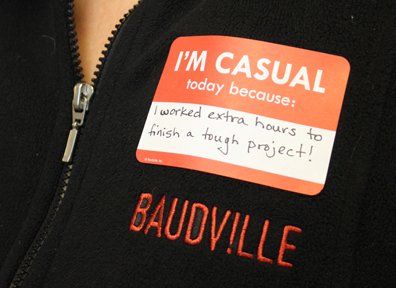 6. Relax with Casual Days.
During Customer Service Week, let your team relax by coming to work in jeans. Pass out
Casual Day stickers
to each member of your team and add a personal note about their performance, attitude, or unique contributions!
7. Recognize Character with Character Pins.
Celebrate the unique attributes of each member of your team by presenting
Character Pins
as your Customer Service Week gifts. Select a different lapel pin for each member of your team. When you present the gifts, read the character story aloud and explain why you chose it for that individual.
8. Help Your Team Out with Practical Key Chains.
Help your team prepare for anything with a practical
key chain
. A USB key chain or LED flashlight key chain will often be appreciated for their handiness. It will be a Customer Service Week gift your team uses again and again!

9. Study Up with Gift Books. Give your team motivation and encouragement for Customer Service Week gifts by presenting each employee with a gift book. Choose the sentiment that best fits your team, and write a personal note in the inside cover to each of your employees.
10. Give the Gift of Time Off.
The best Customer Service Week gifts allow your employees to do whatever they want! Throughout the week, pass out
Tokens of Appreciation
that employees can save and redeem for extending their lunch or leaving early. Give "Take a Free Hour" tokens as prizes for competitions or special recognition.