It's that time of year! Time to begin shopping for a gift for every member of your team that will express your utmost and sincere appreciation for all the work they've done this year. Wow, sounds like a tall order!
When you're looking for
Christmas gifts for employees
, remember that personal and sincere appreciation is the most effective. Therefore, giving a gift that is unique to each recipient goes a long way and makes a lasting impact on the recipient.
Personalized gifts
make excellent Christmas gifts for employees because the gift item can be enhanced by adding your recipient's name using either an engraver or printer. This approach will also save you time and money since you can select one item and personalize it for each individual.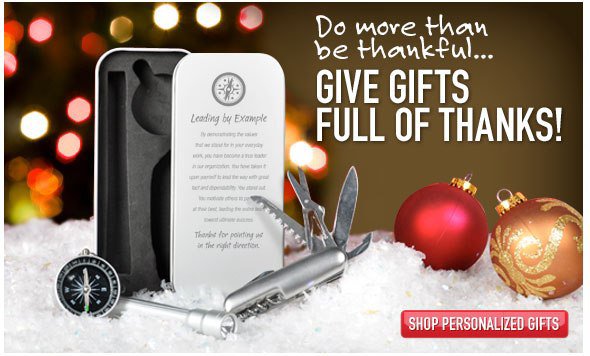 To start your shopping this season, we've put together our top ten list of personalized Christmas gifts for employees!
1. Spinner Ornaments
You can personalize this gift two different ways. First, have the recipient's name engraved on the back side of the
Christmas ornament
. Second, add a personal note to the inside cover of the gift box.
2. Gift Pen
A personalized
gift pen
is a classic thank you that employees can use for both personal and professional occasions.
3. Picture Frame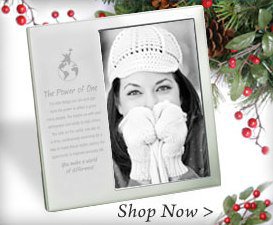 In addition to the person's name, add a story to the
engraveable picture frame
to make it unique for the recipient. You can also select one story that represents a challenge or triumph y
our team experienced this year. Under the story, insert the employee's name, company name, and a date.

4. Gift Set
If you can't decide on a single item, choose a
gift set
for this year's Christmas gifts for employees. Gift sets provide a variety, so you can be sure your gift will please everyone on your team.
5. Journal
Personalized gifts that can be used in the office will be highly valued. The more your employees use their Christmas gifts, the more they'll be reminded of your appreciation for all their hard work. Write a personal note on the first page of a personalized
journal
, and your gift will have a big impact!
6. Character Pin and Award Presentation Board
If you want to present each employee with an award,
Character Pins
are an affordable option. Display each pin in an
Award Presentation Board
and add a personalized nameplate to make it unique to the recipient.
7. Clock
A classic gift of appreciation,
clocks
make timeless personalized gifts that your employees will treasure.

8. Perpetual Calendar
It is very important to select Christmas gifts for employees that are practical! A sleek
perpetual calendar
can be personalized and can be used for several years thanks to the interchangeable calendars.
9. Paperweights
Delight your team with a unique gift like a beautiful
crystal paperweight
. Personalize it by having their name and a date engraved on it.
10. Engraved Key Chains
Your employees will be reminded of your appreciation every time they pick up their keys and the
personalized key chain
.
Tip:
Regardless of the gift you choose this year, give your presentation special attention! A beautiful gift that is poorly presented will miss its mark. Instead, carefully
gift wrap
your gift or give it in a gift bag. Then make sure the moment is right to present it to your recipient for a meaningful recognition occasion.