If you're a recognition guru or the Director of Positive Mojo at your organization, you probably celebrate your employees on Employee Appreciation Day. Employee Appreciation Day is always celebrated on the first Friday in March.

Employee Appreciation Day can be a fun time to celebrate your staff. However, for your efforts to be interpreted as sincere, recognition and appreciation should be happening regularly in your organization. Don't let your Employee Appreciation Day go awry like it did for Dilbert.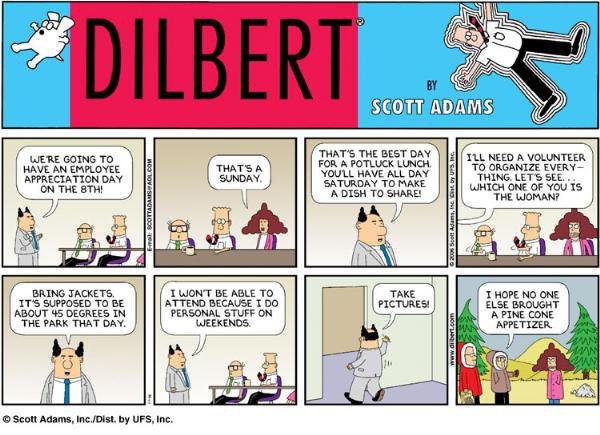 Source: Scott Adams, dilbert.com

What should I do for Employee Appreciation Day?
Keep your Employee Appreciation Day plans simple and focus on authentic recognition. Give managers and employees thank you note cards and encourage them to write a handwritten note to a co-worker they appreciate.

Giving an Employee Appreciation Day gift is also popular. An employee gift can express your thanks and serve as a lasting reminder of your appreciation. Some of our most popular Employee Appreciation Day gifts have been edible gifts or a gift for the whole team like our Team Shirts or our Team Gear.

At Baudville, our employees have a blast with team competitions or activities on Employee Appreciation Day. One year we split our employees into six different teams to compete in the Baudville Winter Olympics. It was a blast! You can see videos and photos from the day on our Facebook page.

What happens after Employee Appreciation Day?
For your Employee Appreciation Day efforts to be effective, you need to continue to practice recognition every day. It's easy! Equip managers with simple tools that they can use on a daily basis. Regular recognition is about the genuine recognition that reinforces desired behaviors, so give managers tips on identifying and recognizing behaviors that you'd like repeated at your organization.