We've all received the traditional award certificate at some point in our life. Maybe you received one in elementary school for completing the Presidential Fitness Challenge. Or perhaps your award certificate came in high school when you were given the honor of being Student of the Month.
Regardless of when you last received an award certificate, you probably have the same mental image of what it should look like: gold foil lettering, an embossed seal and the signature of a person of authority. Traditional award certificates remain a very popular form of recognition, but if you have Gen Y employees, you may want to make it a little more "hip."
Award certificates are popular because they're affordable recognition you can give to a large group of people. This year, reward your entire team for their hard work and dedicated efforts with contemporary award certificates. Here are three things you can do to make award certificates cool again: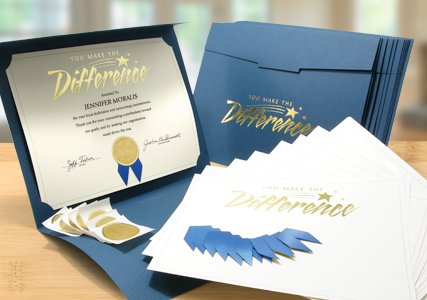 1. Pick an award certificate design. Give your employees an award certificate paper that fits the occasion and that can double as cubicle art that they'll be proud to display!
2. Have fun with award certificate titles. Your award certificates don't have to be formal to be effective. This year, make recognition personal and memorable by giving a special, individual award for each employee, and have fun coming up with award titles. Employees want to have fun at work, and your humorous award certificates could be just the trick.

Some of our favorite award titles:
Rookie of the Year Award
Why Didn't I Think of That Award
Samurai Seller Award
Unsung Hero Award

Get more award certificate title ideas in our free PDF download, Sample Employee Recognition Award Certificate Titles.
3. Make the presentation an event. Make your presentation of award certificates an event for the entire team. Reserve a conference room, bring in festive snacks, and set a festive mood by playing music. We recommend repeating the track "Gonna Fly Now," the theme song from Rocky. Encourage employees to shake their hands over their heads in victory as they accept their award.