Even as a non-revenue-generating non-profit organization, the Colorado State Foster Parent Association (CSFPA) puts on lots of events: fundraisers, seminars, training sessions and more. Many of these events revolve around the CSFPA goal to educate certified foster parents in the state of Colorado on how to be better foster parents.
To pursue this goal, CSFPA hosts an annual education conference for foster parents. The event is considered to be one of the best foster parent conferences in the region and takes place over the course of 4 days and draws 200-300 attendees from around the state.
"It's a big sacrifice for foster parents to attend the conference," explains Sherry Owens, CSFPA Executive Director and Conference Project Manager. However, the event always proves to be a valuable educational opportunity for the parents. Speakers travel from around the c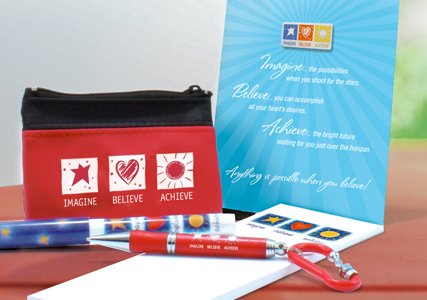 ountry to present at the conference and most donate their time and services.
When Owens began preparations for the conference, she came to Baudville for its coordinated theme gifts. Owens knew the conference would be a great success as soon as she found the Imagine Believe Achieve theme gifts.
"We chose the theme because it really fit with the Federal Government's goals of Safety, Permanency and Well-Being," says Owens. "'Imagine safety, Believe in permanency and Achieve well-being' for all children in foster care."
Conference attendees received theme gifts such as coordinating carabiner pens, pocket folders and team bands in the Imagine Believe Achieve theme. All of the theme gifts were selected to encourage attendees to reflect upon the theme and apply it to their individual care circumstances. "We made sure to help people think through the theme," says Owens.
The coordinating giveaway items and theme gifts helped make the conference a tremendous success. "People just loved the theme and their gifts," says Owens. "It was one of those years that just clicked." Not only did Owens receive positive feedback during the conference, but the event evaluations she received far exceeded previous years. "The conference turned out great, and Baudville was such a big piece of that," says Owens. "You were just fabulous to work with."
CSFPA plans to continue using the Imagine Believe Achieve theme and theme gifts as it expands programming and invites greater community participation. "We have pretty lofty dreams," says Owens. "Baudville's piece in that is this whole theme. We just love it. It's a perfect fit for us."
Owens' implementation of a complete Baudville theme simplified her event planning and made the event a memorable experience for the hundreds of foster parents who attended. By using all coordinated theme gifts – pens, folders, and a giveaway – she was able to reinforce the conference message everyday attendees met. And the results were outstanding!