"I have to tell you that your delivery was so very timely," says Natalie Thomas of the Georgia Department of Human Resources Division of Aging Services. With a last minute idea for a very special recognition presentation, Natalie was unsure if the
Heavy Weight Display Plaque
she ordered from Baudville would arrive in time for a Tuesday morning meeting. "I did not place my order until Sunday, knowing it wouldn't be processed until Monday, but I wanted to express how honored we were that he had contacted us and selected us to gather information while here in the U.S."
Throughout the year, Natalie had been corresponding with Judge Masahko Kimura, visiting from Japan and studying United States' laws regarding guardianship and care for the elderly. "He started everything with gratitude and was very respectful," Natalie commented regarding their relationship. Judge Kimura frequently visited Natalie and the Division of Aging Services to learn more about elderly services in the United States.
"I had already purchased some wonderful
certificate paper
from you for a previous function and I knew it would look best in one of your plaques." Natalie placed an online order with Baudville for a Heavy Weight Display Plaque to present a Heritage Certificate with the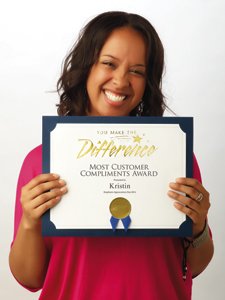 Eagle watermark. She was concerned Tuesday when neither the plaque nor a Georgia gift basket for the Judge had arrived. She had resigned to her Plan B, which was to present the certificate by itself, until Baudville's speedy delivery intervened.
"While we were in the meeting with Judge Kimura, I heard the outside door open, and I just knew it was something for me," Natalie explains. The plaque had arrived! Natalie quickly stepped out of the meeting and inserted the prepared certificate for a memorable recognition presentation.
"It was just gorgeous, just beautiful. And when we presented it to him, he jumped out of his chair!" Natalie laughs. "He said thank you so much, this means so much. He kept bowing and we kept bowing, it was like something out of a commercial."
The presentation was a special moment for all involved. "The timing was just perfect," says Natalie. Even though a camera wasn't available during the meeting, Natalie is certain she will not soon forget presenting the plaque to Judge Kimura. The following morning, she had already received an email from the Judge expressing how impressed he was that he had been thought of.
Natalie's personal recognition achieved above and beyond results. The plaque and certificate, a token of appreciation and friendship, expressed a special sentiment for the individuals at the Division of Aging Services that may have been unattainable with words. "It blew me away," Natalie says. The occasion had an obvious significant impact on Judge Kimura who will likely remember the recognition from Natalie as a highlight of his American experience.
A last minute recognition idea should have all the impact and pizzazz of months of planning, just as Natalie desired. Her world class recognition of Judge Kimura achieved results beyond her expectations.
Stories like Natalie's demonstrate Baudville's commitment to providing same-day shipping and offering stunning awards. It's Baudville's goal to make gift-giving stress-free, regardless of planning time.