As one of the fastest growing auto insurance companies in the country and one of the first to offer auto insurance completely online, Esurance is known for its innovative business practices. The trend-setting company applied its creativity to an associate recognition program for its claims department.

The program recognizes associates in the claims department anytime they are promoted or acquire a new skill. The associate is given a lapel pin by his or her manager to commemorate the accomplishment. Associates display their lapel pins on their desks using "Making the Difference" Award Pin Displays. The frames are proudly set up on desks throughout the claims department and are a symbol of seniority, as well as achievement, throughout the organization.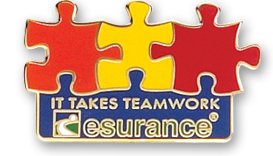 Managers are enthusiastic about participating in the program. Like associates, they also want to display their lapel pins as a sign of their accomplishments. "We have individuals who were hired as claims representatives and promoted to managers before this program was in place who now call us asking for their own pins. Managers are also very happy to have a tangible way of honoring an individual's achievements," says Lisa Barnhart, Esurance's Corporate Claims Development Manager.

Esurance has created custom lapel pins incorporating their corporate logo with Baudville's exclusive designs. The lapel pin designs are easy to customize with the corporate logo. Many of our claims offices are somewhat recent additions to our organization, it's important for us to have tokens like this to help create a culture that's uniquely identified as Esurance," explains Lisa.

Since the introduction of the achievement-based program, there has been a boost in associate morale. In a survey after the program was introduced, associates were more aware of career opportunities and felt more recognized for their efforts.

Esurance's innovative program provided a simple and effective solution to recognizing individual skills and contributions. The lapel pins are a huge success," says Lisa. "It's been a huge associate morale booster." Not only has the program improved associate morale in Esurance claims departments, it has also helped to identify where the associate skill sets were in need of further development. The program has been pivotal to identifying the areas associates could use additional training, providing training, and recognizing individuals for completing it.