For many organizations, having too many excellence award nominations is rarely a cause for concern. For Enterprise Elementary School District, however, the Essential Piece Award has become such a success, excellence award presentations had to be limited! "The presentations were taking so much time, we had to scale them back," says Meagan Stone of the district's Human Resources department.

Since 2005, the school district has given a monthly Essential Piece Award to individuals whose involvement in the schools makes a difference in the lives of the district's children. The excellence award encompasses all seven schools in the district, and it was established to "celebrate people within our district who are truly building assets and having an impact on the lives of others."

Schools are encouraged to submit letters of nomination for the Essential Piece Award, and informational flyers are available in all school offices. The excellence award is open to everyone in the district. "Anyone can be eligible," says Stone. Past excellence award recipients have included teachers, custodians, cooks and school nurses as well as parent aides, volunteers, and classroom grandparents.

Excellence award recipients are recognized at the district's monthly school board meetings. "The nomination letters are read and the recipient receives a certificate and keychain," says Stone. Originally, all seven schools recognized an excellence award winner at the monthly meetings. Currently, three schools announce a winner each month.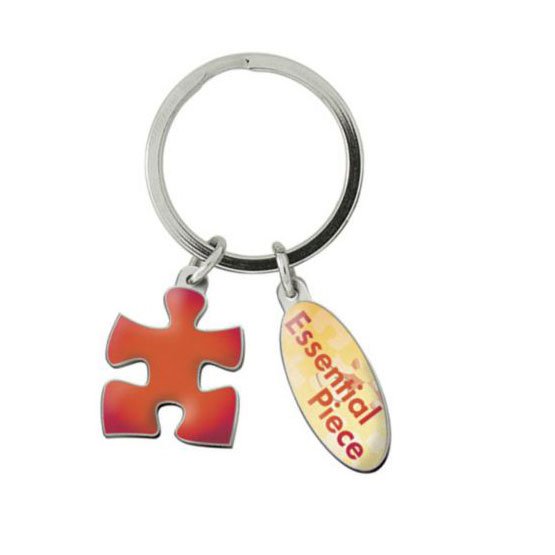 Enterprise Elementary School District selected Baudville to support its Essential Piece Awards because of its coordinated themes. "I liked the certificate because it said Essential Piece on it," Stone explains. The gold foil excellence award certificates are given to recipients in an Essential Piece foil stamped certificate folder and accompanied with an Essential Piece Character Key Chain. Stone also uses border paper, which has colorful puzzle pieces incorporated into its design, to spread communication about the award.

The Essential Piece Award doesn't stop there! The district makes sure news about the winners spreads throughout the entire district. Pictures of all winners are posted in the district office as well as at the respective school site. A monthly Essential Piece newsletter is circulated and posted on the school's website which includes pictures of all the winners as well as the nomination letters.

The excellence award has had a positive influence throughout the school district, and individuals strive to receive the nomination of their peers. The excellence award supports the district's value of parent and community support and encourages increased school involvement by publicly recognizing individuals who serve above and beyond.

"It is incredibly satisfying for us to hear about schools creating and implementing their own award programs," says Brad Darooge, Baudville, Inc. President and CEO. "We take great pride in helping the educators at Enterprise Elementary School District achieve their goal of transforming the lives of children."