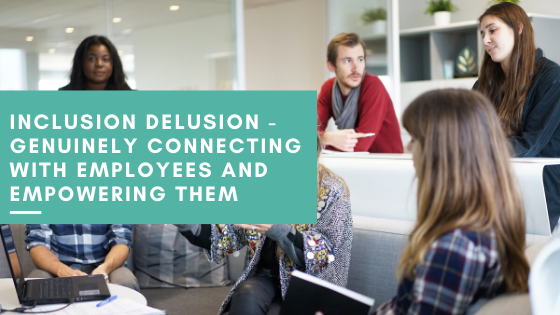 Don't be in an Inclusion Delusion—Genuinely Connecting with Employees and Empowering Them
In all my research on the subject of inclusion, I feel Gallup really nails it: "A strengths-based work culture encourages, embraces and celebrates each employee's unique contributions."
In fact, the entire article, The No. 1 Strategy for True Inclusion in the Workplace, authored by Dan Grafstein, hits the hammer on the head. It gives us a list of what an inclusive work culture looks like:
Everyone treats everyone else with respect.
Employees are valued for their strengths.
Leaders do what's right.
The largest emphasis of Grafstein's article leans on the need for managers to appreciate each employee's individual characteristics. This means that leaders and managers must connect with employees on a foundational level—getting to know them as humans, not just worker bees—and empower them to use their unique skills to propel a business forward.
So, are you living in an inclusion delusion?
What on Earth Does "Workplace Inclusivity" Mean?
To set the record straight, inclusion, although closely related to diversity, is a different concept. When we say "inclusive" it necessitates that everyone within an organization is treated fairly and respectfully and has the same growth potential, as well as unbiased and equal access to opportunities and development.
Personally, when I think of the word "inclusive" I like to think of it in terms of an all-inclusive resort in Riviera Maya. If my money was well spent, I just had my dream vacation—endless umbrella drinks, paddle boarding, pancakes, fresh seafood and crème brûlée for days!
Now translate that concept to the workplace. If I'm putting my heart and soul into your business, I want to be respected, admired for the distinct skills I bring to the table, and maybe even appreciated for being a little quirky. I want to know that when I'm up for a promotion, you look at me with an impartial eye. If I know you do these things on a daily basis, I'll go home a happy employee.
With all that said, do you see yourself being inclusive or not? Take a moment and really assess here—are you giving your team members an all-inclusive ticket to being awesome by letting their individual talents shine?
Inclusion Delusion Solution
What's the best first step to find out if you're living in an inclusion delusion?
You guessed it! You need to ask.
And, yes, again! A survey is the best way to find out (so you don't put someone in an awkward position by asking them directly).
Send out an anonymous email survey asking how comfortable each employee feels in their current "shoes." Ask questions like:
Do you feel appreciated and respected?
Do your fellow co-workers treat you as their equal?
Are your skills being individually considered/admired?
Are you given the right tools to grow?
Also, have them rank their overall workplace happiness on a scale from one to 10. If any of your team members answered less than a 10, there's room to improve how you perceive and treat inclusion.
Now what?
Empower Your Team
Begin by focusing on empowerment—an essential element to inclusion.
Empowering an employee should start with appreciation and recognition. Being pleased with someone's performance and publicly acknowledging them for it helps build and reinforce confidence almost instantaneously.
Consider a small gesture that recognizes their uniqueness or expresses what an essential piece of the team they are. A physical reminder that sits on their desk is a consistent nod to their great work.
Once you've assured someone of their well-deserved place on your team, be steady with your praise, whether it's just a verbal thank you, a note, or something more substantial.
Keep in mind: Tokens of gratitude need not be big if given with genuine thoughtfulness.
Encourage autonomy, collaboration and peer-to-peer recognition throughout your company to ensure universal empowerment. Make sure everyone's voice is heard, ideas are acknowledged, and the appropriate resources to do a good job are always available.
Need additional inspiration to keep your employees engaged, motivated, and happy? We have a ton of great ideas for you here!