Are you operating on the buddy system? You probably have at least one friend at work, but would you go so far as to say a "best" friend?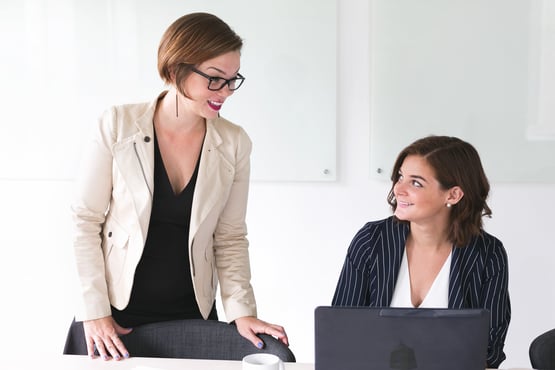 Probably not. First of all, we're conditioned to maintain a mild distance between ourselves and our co-workers so that work is work and play is play. Second, best friends are not exactly easy to come by. Best means best, after all.
But, a Gallup study identifies having a best friend at work as one of the most important traits of highly productive work groups. In fact, they say that "women who strongly agree they have a best friend at work are more than twice as likely to be engaged (63%) compared with the women who say otherwise (29%)."
From the lips of our very own Sourcing & Purchasing Agent, Brenda: "Going to lunch with Kim is hands down the highlight of my week! We could use that time to talk shop, but we'd rather just have a few laughs. It's our time to decompress and breathe. And laugh. We do a lot of laughing!"
According to Gallup, it's the superiority of "best" versus just the "good" or "close" that makes all the difference. Better performance, higher quality of work, greater levels of trust and loyalty, and increased resilience during times of stress and change are all linked to this one element.
While forming bonds is an organic process that is best left to nature, there are still a few things you can do to foster some healthy relationship-building in your workplace.
1. You can start at the beginning, with your recruiting. When you bring on new employees, considering their fit with the group they're joining is critical. If you can't envision them as part of your current company culture, it will benefit everyone involved to keep looking until you find the ones who will complete the puzzle. And then keep the socialization going through their onboarding! Spice up your first day orientation with a little bit of fun, games, and prizes.
2. It helps to allow, and even encourage, socializing. When you see your team members congregating, don't worry that they should get back to work; instead, smile knowing they're forming relationships that will pay off in the future. Environments where employees are free to chat, laugh, and share—even on the clock—are the ones most conducive to making friendships at work. And, as we've learned, they are also the ones that are the most productive.
3. Facilitating fun at work can also help employees forge relationships with one another. Celebrating birthdays and organizing engaging workplace activities give employees a much-needed break in their work and allows them to blow off steam with their team, which allows them to flourish relationally and professionally.
4. Throwing out a challenge can also bring people together. Pairing team members on short brainstorms or long-term projects stimulates collaboration, a sense of connectedness, and unity toward a common goal. The ongoing collaboration will bring them together—and maybe even keep them together!
5. Encourage peer-to-peer recognition! Everyday praise and recognition from fellow employees breathes new life into organizations. You'll build camaraderie and respect among your entire team as they stay on the lookout for rock star achievements and above-and-beyond effort.
Need more help facilitating peer-to-peer recognition? Check this out: