As a self-proclaimed brand spankin' new employee of Baudville, Friday was my very first Employee Appreciation Day at the 'Ville. I'll let you in on a little secret: Friday was my first Employee Appreciation Day ever… It's not like this is my first year in the workforce, it's just that I've never worked anywhere that so much as batted an eyelash for Employee Appreciation Day. Man are those employers AND employees missing out because Friday was my favorite workday of the year so far!!
Being in the business of employee appreciation, Baudville really tries to practice what they preach. Besides, who wouldn't want higher retention, employee engagement, and a more positive corporate culture? Pssssh! I could tell you all day about why celebrating Employee Appreciation Day is a good idea for your bottom line. Instead, I'm just going to give you a peek at our fun!
We had the 6 essential elements of every epic employee event:
Theme
Presents
Food
Games
Management Participation
Togetherness
Theme: To prepare us for the awesomeness of our celebration, HR prepped us with this email:
Presents: When I got to my desk on Friday morning, I found this considerate note from our Brand Director, a travel mug, and a squeezable rocket, neatly arranged on my desk.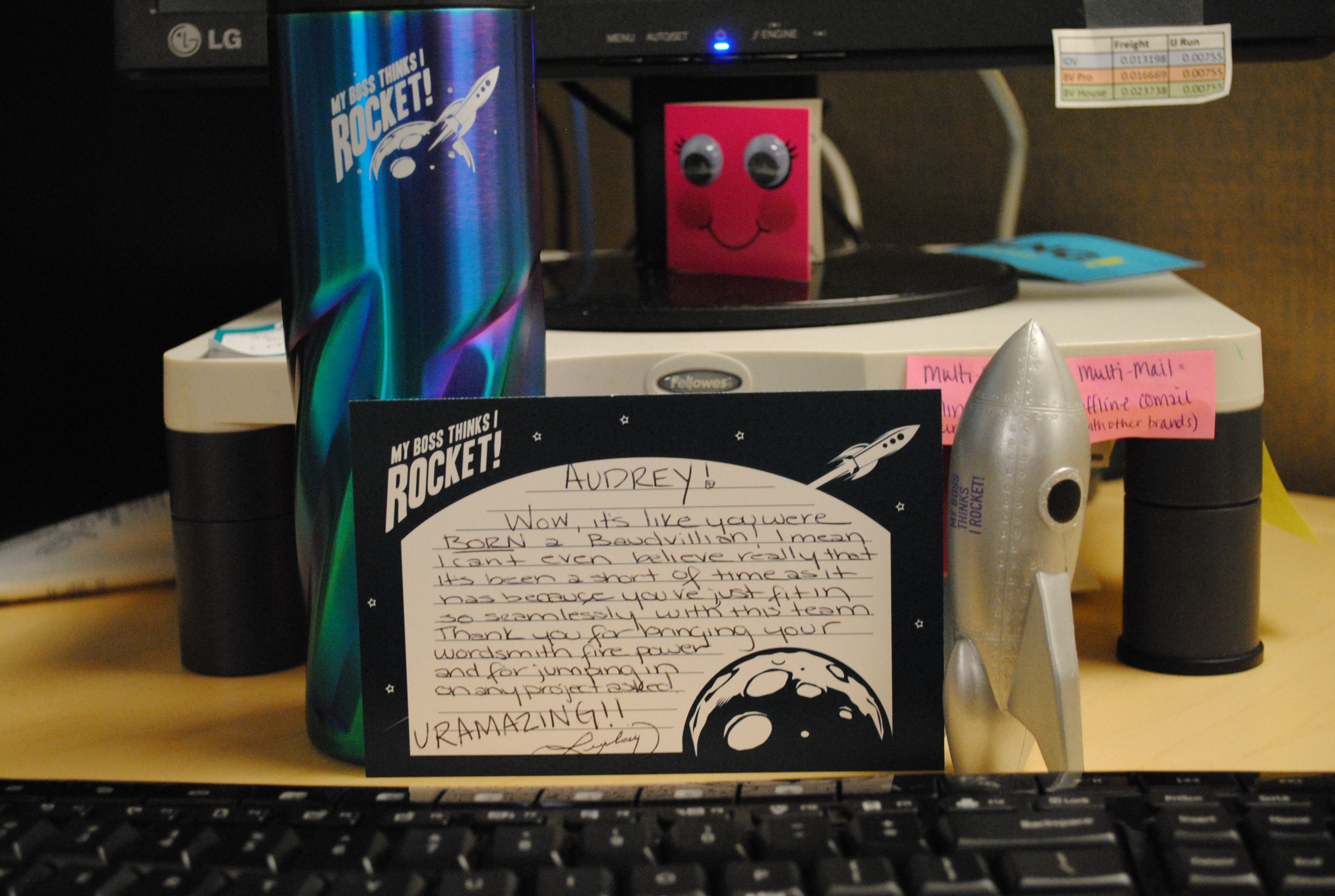 Check out the super sweet color changing coating on that travel mug! Baudville designers at their best!
Food: At lunch time, Qdoba arrived with a hot taco bar! I heard a rumor that the planning team was trying to think of foods that would go with our intergalactic theme and had a hard time. I for one am glad we got to eat tacos instead of freeze-dried, rehydrated Spam – blech!
Games: With full bellies, we joined in the games! Every department had their own rocket setup.
The boss-man playing a little defense!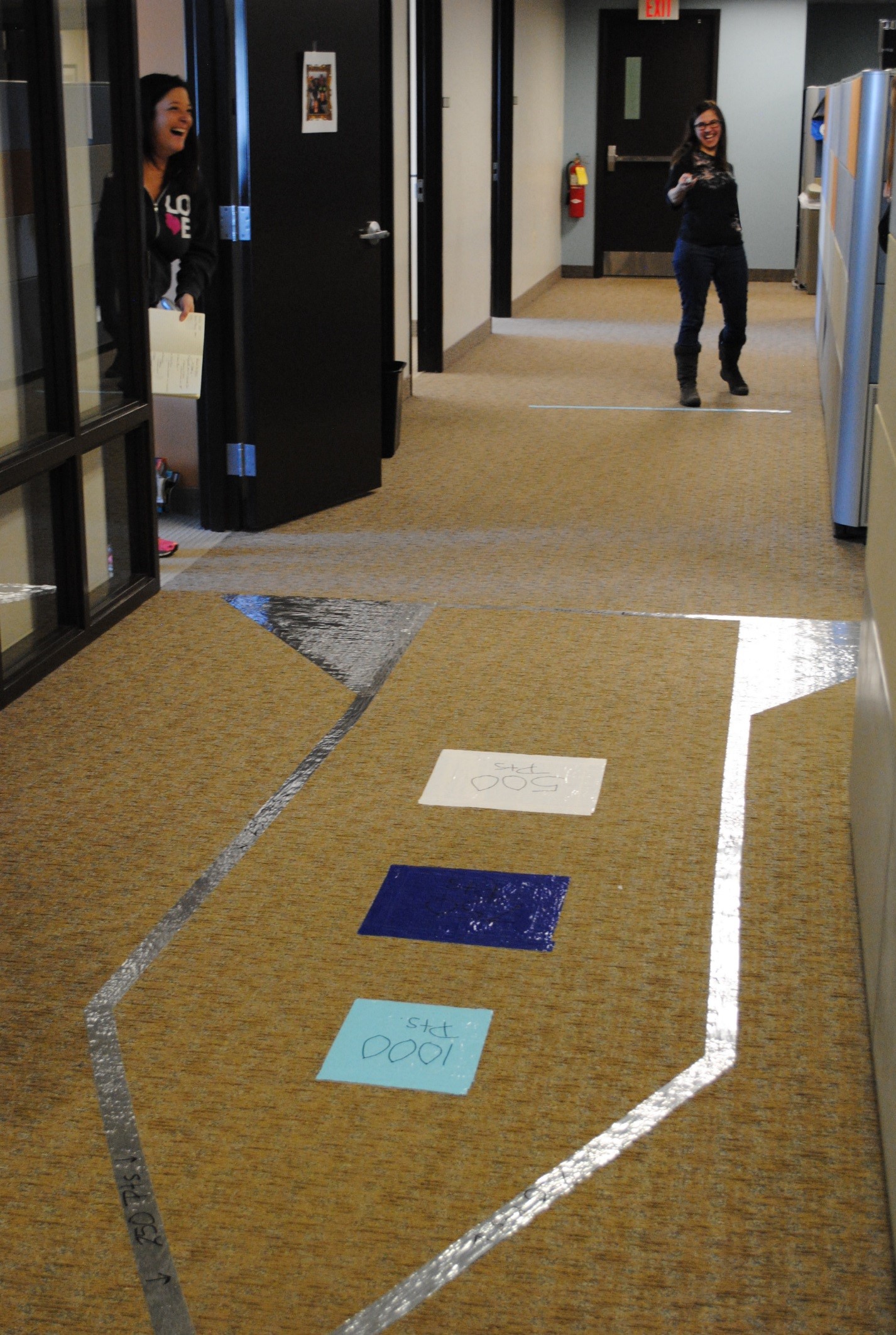 Check out those happy faces! The little rocket we were given as a gift doubled as the bean bag to our stellar version of a bean bag toss.
Management Participation: There's always room for dessert, right? Management dressed up in funky costumes that may or may not have had anything to do with our theme (our staff photographer has a ton of fun props – it's hard not to get carried away!) and passed out delish Hudsonville ice-cream with all the toppings!
Imagine these two goofy guys side stepping through the office with Space Jam blasting in the background!
Everyone was hopped up on fun and sugar…
and had a great time!
Togetherness: What do a cosmically cool theme, awesome gifts, delicious food, fun games, and a generous helping of management involvement add up to?
One seriously amazing Employee Appreciation Day that our employees won't soon forget! Baudville, we think you are out of this world!
How did you celebrate Employee Appreciation Day? Share your stories & ideas in the comments!
Audrey is brand spankin' new to the 'ville (that's what they call Baudville around these parts). As the new Marketing Coordinator, she'll be talking printer-ese, corralling creatives for our catalogs, and writing headlines and blog posts about Baudville's #1 passion, employee recognition!