You believe your staff is the best. They're hard working, dedicated, and fun to work with. When was the last time you told them that?
You don't need an official recognition holiday like Teacher Appreciation Week or National Nurses Week to celebrate your staff. Declare your own unofficial appreciation week and plan a celebration worthy of your awesome staff. We suggest planning something small for every day of the week. That way, everyone can participate in the celebration regardless of which days they work.
When planning your staff celebration, make the appreciation personal by customizing our ideas for your team. Personal recognition is the most effective, so the more you can tailor the appreciation to the individual, the better.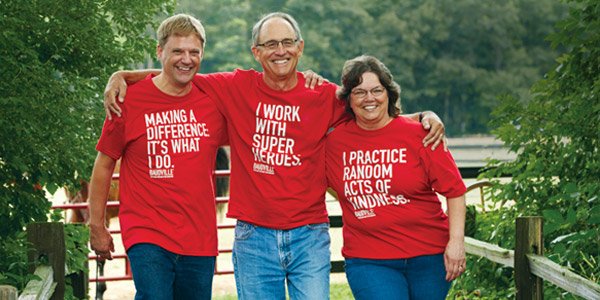 Don't forget to buy employee gifts for your celebrations!
Day 1 – Kick start the week with a theme.
Themed events and celebrations are more memorable, effective, and fun. Select a theme for your staff appreciation week and coordinate your gifts, activities, and communication to match. Get theme ideas in the Quick Tips section of the newsletter!
Day 2 – Make them feel appreciated with a gift.
Surprise your staff with a personally delivered gift from our Positive Praise theme to during the day. Choose a gift that will make them smile throughout the work day, like a Goofy Pen, or a rock star Twist Top Tumbler.
Day 3 – Keep recognition personal with a thank you card.
Employees desire a personal thank you above all other forms of recognition. As a manager, write a personal thank you card to each of your employees and have it waiting on their desks first thing in the morning. Or send quick and personal thanks with free ePraise.
Day 4 – Get the organization involved.
Your staff interact with the entire organization, so get them involved in the appreciation this week, too. Encourage everyone to take the time to write a thank you card , participate in an activity, or decorate for the week.
Day 5 – Have fun! Host lunch for your staff.
Food is always a popular way to celebrate employees and staff. Bring in a catered lunch or organize a potluck meal. Providing a meal for your busy team will simplify their schedules, and let them know you truly appreciate their time.
Day 6 – Present awards to your outstanding performers.
This week is a great time to present awards to your outstanding team members, and it doesn't require a formal award ceremony! Throughout the week, encourage your staff to nominate a high performing peer. At the end of the week, hold a stand-up meeting and present a Character Pin award to the employees who received the most nominations.
Day 7 – A sweet treat to end the week.
Wrap up your staff celebrations with a small, sweet treat for everyone. You can put together small goodie bags with snacks or distribute popsicles and ice cream bars. For an added personal touch, hand deliver the treats to each employee with a sincere "thank you!"
Quick Tips
Theme ideas for celebrating your staff all week long!
Best Practices
Learn how to transform the culture of your organization with employee recognition.

Employee recognition can dramatically improve the culture at your organization. We helped a small healthcare organization improve employee relations, morale, and engagement with a strategic employee recognition program. Visit our Recognition Resource Center to learn about the process we used, the exciting results, and how you can do the same.
Articles
Five Ways to Appreciate Teachers and Nurses
Employee Appreciation Ideas for Successful Week-Long Celebrations
Transforming Culture with Recognition: A Success Story

---
Jenny became a Baudvillian in 2013 and started out as a member of our sales team. She seemed to have a creative knack for Marketing and joined the team as Baudville's Web Marketing Coordinator. She loves our products and probably owns every piece of drinkware we have to offer! Equipped with great knowledge of our customers and products, she's excited to help make your email and web experience even better!