August is here which means kids will be heading back to school very shortly! Start the year off right by welcoming back teachers, students, and staff with a small gift and welcome celebration. We've compiled our top ten choices for back to school gifts to make your planning easier!
1. Sticky Notes for Teachers. Teachers will love this Flip Top Note Holder and use the handy sticky notes all year. Present this gift to teachers at a meeting before the students arrive to motivate them for the year ahead.
2. Twist Top Tumbler for Student Workers. Colleges and universities have lots of student workers who keep valuable school services up and running all day and into the night! Welcome your student workers back to school with a Twist Top Tumbler. It's a popular new take on a water bottle that they can use for their favorite hot and cold beverages.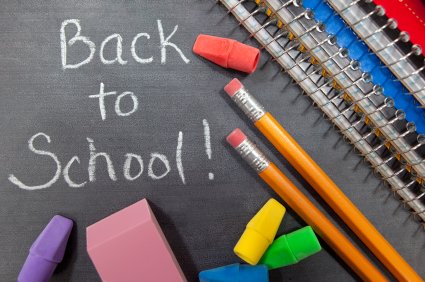 3. Tote Bag for Volunteers. Let volunteers know how important they are to your school. One of our themed tote bags is a practical gift they'll use every day. Get more volunteer ideas from our Recognition Resource Center, and use VolunteerSpot's online sign up sheets for easy volunteer coordination.

4. Journal and Pen Gift Set for Teachers. A journal and pen gift set provides your teachers with a notebook for staff meetings and conferences that will last months.
5. Pen and Pencil Gift Set for Student Leaders. Recognize your student leaders with a welcome back gift. This sharp pen and pencil gift set will serve as a reminder of the important role they have in your school.
6. Sweet Treats for Students. Place one of these colorful sweet treat candy jars on each student's desk for a sweet surprise and a warm welcome back to school.
7. Goofy Guy Talking Pen. Just for Fun! Set the tone for fun with a unique talking pen. It will give your teachers and staff a smile and entertain the students.
8. USB Key Chains for Teachers and Staff. Your team will love being able to carry important documents and data with them on a USB key chain. Choose the recognition theme that best suits your team for a memorable welcome back to school gift.
9. Perpetual Calendar for Administrators. Your administrators and leaders will be "perpetually" on top of things this school year with a beautiful perpetual calendar to keep track of the days for them.
10. Themed Lanyards for the Whole School. Make safety and security a priority this school year by outfitting the school with themed lanyards. The lanyards come in a breakaway option great for kids and will keep ID cares prominently displayed.
Looking for more teacher appreciation ideas? Download our Teacher Appreciation Ideas eBook for 60 ideas for back to school, holidays, and year round appreciation.

-----------------------
Cori is Baudville's in-house Recognitionista (she's officially a Certified Recognition Professional, too) and a member of the Millennial generation. Get her employee recognition tips and special discounts by liking Baudville on Facebook.