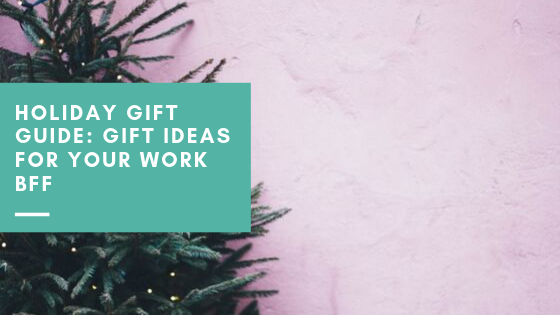 Getting something special for your work BFF this holiday is important. We get it. They're your ride or die, your lunch buddy, the person you can always complain about the temperature of the office to. Your normal popcorn tin or homemade chocolate pretzels just won't do.
We also understand that there is so much to do for the holidays. The planning, the decorating, the shopping - the list never seems to end. That's why our office elves have done part of the planning for you by creating a list of gifts your work BFFs will love, and are Santa approved!

Snap, Crackle, and Pop have nothing on these rice treats! Your best friend will love you even more after you give them one of these yummy snacks!
Can you ever go wrong with cookies? Nope. True best friends know that what they really need during the holidays is something sweet!
Friends don't let friends' phones die. This personalized QI charger is the desk accessory they need to keep their phone charged all day.
Just like you're their best friend, this travel mug is coffee's best friend. Personalized too, this mug won't be mistaken at the coffee station for anyone else's!
Your work BFF will know how much you believe in them with this encouraging plant cube!
This planter kit lets you grow your plant right in the bag! Everything you need to grow your Scotch Pine is included in the kit!
Our most popular holiday gift, this 13 oz. ceramic mug's warm sentiments will cheer up anyone, even the Grinch and especially your BFF!
This tumbler is like a friendship bracelet, but better. You and your bestie can now enjoy happy hour with matching personalized tumblers. Just add wine!
Everyone needs a personalized gold flask. Your best friend will love getting one from you!
Everyone also needs chocolate. Better than a plain old normal chocolate bar, this one has sprinkles, mini chocolate chips, and mini M&Ms!
Looking for more festive ideas and holiday office cheer? Visit our Holiday Hub!