Each year, we celebrate International Volunteer Day on December 5th. This day was marked by the United Nations in 1985 as a time for volunteer organizations and individual volunteers to be recognized for their commitment, as well as a time to build awareness around the impact that volunteering has in our local, national, and global communities.

Volunteers are such a vital part of many of the biggest difference-making organizations all over the world. It is the tireless work of millions of volunteers each year that keep the homeless off the streets, feed impoverished families, pick up the pieces for communities affected by natural disasters, protect our animals, and clean our environment. Their work goes unpaid, but their hearts are filled, and our hearts are filled because of their goodness.

December 5th is a time to thank them. Here are four great ways to let your volunteers know how much you appreciate their dedication to the cause: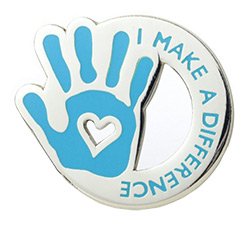 1. Gather the Troops & Celebrate! There is a special energy that presents itself when people gather together. Invite your volunteers to a special lunch just for them. Feature the statistics of hours served, lives changed, and impacts they have made while serving your organization. Present them each with a certificate honoring their dedication and a lapel pin keepsake, then sit back, have fun, and enjoy your downtime together!

2. Make a Difference for the Difference Maker! Volunteers give, and give, and give, and give. They aren't the types to take time for themselves. Brighten their day in a way they never would for International Volunteer Day by sending them flowers, giving them a spa gift card, buying them tickets to a local theatre event, or sending them shopping at their favorite store! Whatever you do, make it personal to each volunteer. After all, they deserve special treatment too!

3. Tell Their Heartwarming Story. Spend a little time with a person that each of your core volunteers has impacted. Take notes, write a letter, or tell their story at your volunteer appreciation event as you present your volunteer with a special award. Spotlighting these stories at your event will also speak volumes to your new volunteers as to what's possible with the organization moving forward!

4. Say the Right Words. Oftentimes it's hard to find the right words to express your most sincere and deep appreciation for your volunteers. Our Character Pins will give you the right words, while at the same time giving your volunteer a tangible take-away gift. Check out our selection to find the right match for your volunteers!