Last year, when I volunteered to be our health and wellness cheerleader, I had somewhat selfish intentions. You see, over the past year, I had lost 35 pounds and actually managed to keep it off for long enough that it seemed like it might last this time. My whole adult life, my weight has fluctuated wildly, and while shopping for new clothes is actually pretty fun for me it's both exhausting and expensive!

If I've learned anything from all of this expanding and shrinking, it's that small changes can make a big difference—in both directions. So, I knew having the extra incentive to set an example for everyone at the 'ville, I would be more likely to stay on track.

Wondering how I've been doing? Well, I've been up to my old tricks lately, and over the past six months I've packed on a little extra around the middle. Nothing too serious; but enough to make me start looking at the next skirt size up!

Good thing we just kicked off our 2012 10-Week Fitness Challenge! It's similar to last year's challenge, which you can read about here; but with a few notable improvements.

Last year, our big focus was exercise. That was great, except we discovered that this only encouraged activity, which meant we were still at will to eat cookies for breakfast, cheese and crackers for lunch, and gummi bears and popcorn for dinner (true story, I'm afraid). So, this year, we added two additional point-earning categories for eating the RDA of both fruits and vegetables.

We also noted that there is a big difference between leisurely walking the streets of Manhattan on vacation and doing the P90X workout. Yet, we had only accounted for one level of activity. This year, we earn one point per minute for low-intensity exercise and two points for high. This not only addresses a pretty big disparity; it also inspires participants to step up their workouts.

The final major change we made is the addition of an optional weight loss goal. Those who want to drop a few pounds signed up for this, and while they don't earn points for weight loss, the person who loses the highest percentage of their original weight will win a prize. And, I imagine, be pretty proud of him- or herself as well! I will conduct this aspect of the challenge similarly to our Hold it for the Holidays competition, which you can read about here.

Throughout the 10 weeks, we're planning on activities to keep everyone motivated, like bringing in a fitness guru to teach an informational session, arranging for a healthy recipe potluck, and providing added incentives for participating in a fitness event, like a marathon or charity walk.

Like me, everyone is really motivated to make some positive, lasting changes. Actually, I can hear the crunching of carrots and celery right now as I type. And, for real, the swishing of a hula hoop in the cubicle next to me. Ah, the sweet sounds of wellness!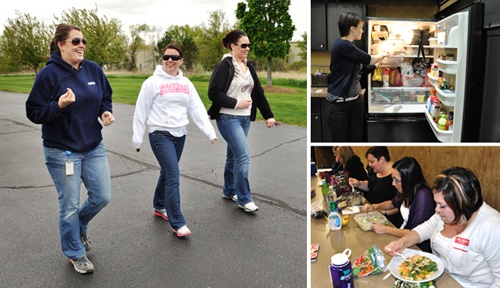 From walking laps around the parking lot, to planning sensible meals, to packing our refrigerators with healthy foods, Baudvillians are committed to some serious lifestyle changes!
Do you have a health & wellness program at your organization? We'd love to hear about it, and so would our readers!
--------------------------

Allison is a self-proclaimed Copywriting Diva and has the certificate to prove it! She's been writing for Baudville for three years and has worked in a variety of business settings for more than 18 years. Before becoming a professional writer 11 years ago, Allison worked as a department manager where she used Baudville products to motivate her team. She's what we call a true believer!