Volunteer Appreciation Week Event and Gift Ideas
If your organization uses or relies on volunteers, chances are their hard work and dedication goes un-thanked most of the time. But not this year!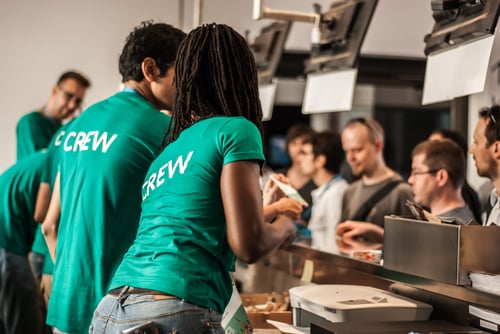 Volunteer Appreciation Week (officially called National Volunteer Week) always falls in mid to late April, and the entire week is dedicated to making sure volunteers receive the appreciation they deserve. And guess what? We have a few examples and ideas to inspire you to reach out to your volunteers during appreciation week and express how much you appreciate their efforts.
Volunteer Appreciation Week Event Ideas
Host an Event
An event is an awesome way to celebrate your volunteers! But don't worry—you don't have to put on a five-course meal. Consider hosting a potluck and asking your paid staff members to each bring a dish to share. Plan a couple of ice breaker games so they can get to know each other better and swap volunteering stories. (Tip: Use the ideas from our "Icebreaker Games for New Hires" blog post and repurpose for your volunteers!)
If you plan an event for your volunteers, it can be helpful to use a theme to bring all the event details together. It's amazing what you can do with a creative theme idea and a little inspiration. Our "You Make the Difference" theme would be perfect! Plus, incorporating a theme into the event can make it that much more memorable. See an example of using the "Essential Piece" theme for an event.
Send a Card
Sometimes, it can be extremely difficult to get all your volunteers (or even most them!) together. The Grand Rapids Civic Theater here in our corporate hometown struggles to accommodate the schedules of all 600 volunteers, so they send a greeting card and to everyone during Volunteer Appreciation Week. Their volunteers love receiving the card and the thought and time that went into sending some good old-fashioned snail mail. (Another tip: We're in love with our newest Thank You greeting card.)
Give a Gift
Step it up a notch and get a special gift for your volunteer team! We've got a great selection, or you can create your own. Pinterest has so many great ideas for volunteer appreciation. Check out our Baudville Volunteer Appreciation Ideas board here.
Volunteer Appreciation Week Gift Ideas
Pop-Top Water Bottle. This pop-top water bottle is sure to wow your volunteers with the statement "Volunteers Make the Difference." With it, they can carry around your appreciation and encouragement all day every day to stay hydrated and pumped up for outstanding service.
Plant Cube. This charming plant cube will spice up your volunteer appreciation (literally!). It's an unexpected and punny gift that includes everything they'll need to grow their own thyme.
Life Savers®. Volunteers are a fun and committed bunch that deserve a little treat. An all-time classic, these Life Savers® rolls are deliciously fruity and bursting with appreciation.
Hand Lotion. This one's especially for the ladies. This hand lotion tube features an appreciation sentiment and lovely vanilla-scented lotion. It also comes with an attached silver carabiner so they can take it on the go.
The Bottom Line
Do something! Celebrating Volunteer Appreciation Week doesn't have to be a drawn-out, difficult affair. Simply writing thank you notes to each of your volunteers and mailing them to their homes can have a big impact.
Plus . . . in the end, your volunteers just need to know that you appreciate the time, effort and work they pour into your organization. Take the time to appreciate them during Volunteer Appreciation Week, and they'll be loyal volunteers for years to come.