At Baudville, we talk a lot about teamwork, and we help businesses promote it through our teamwork-related themes. Cooperation, unity, collaboration, and synergy are all words we toss around as we talk about engagement and appreciation; but what do they really mean?

Well, last Friday I had the privilege of witnessing and participating in the very definition of these words. The project was organized and funded by a non-profit called KaBoom, and benefitted D.A. Blodgett's - St. Johns—a local agency that provides a wealth of support services and resources to children and families in need in our community.

It was amazing. Somehow, in less than six hours, our group of more than 250 volunteers built an entire playground for the children who live on the St. John's Home Campus; plus several picnic tables, a few benches with planters, and a set of bleachers for the ball field.

Seeing it all in action reminded me of where the inspiration comes from for some of our most popular teamwork-themed stories. For instance, Together Everyone Achieves More:

Working together, everyone contributes a signature strength...
The day started by forming teams. There were about 10 teams, each assigned to a part of the project: mixing concrete, tightening bolts, shoveling mulch, sawing planks, and lifting and positioning the structure, one piece at a time. Within each team, we all fell into our natural roles—doing what we do best.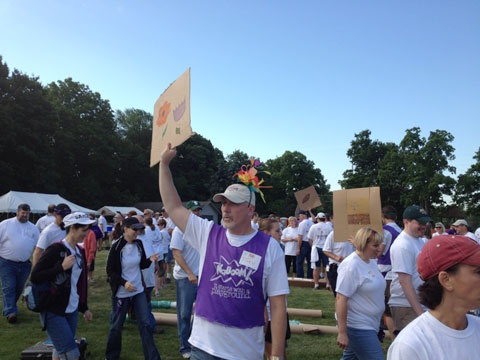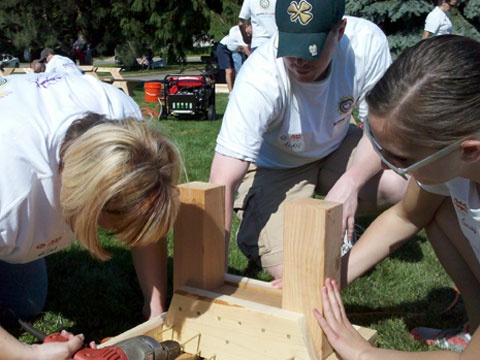 Our collaboration allows us to achieve amazing results…
Within a few hours, the playground started to take form. In fact, we were so efficient in our team collaborations that we were not only ahead of schedule, some of us actually worked ourselves out of something to do. So we regrouped and took breaks in shifts, and by the time lunch was over, we were ready to put the finishing touches on the project. We performed safety checks, cleaned up the site, and, finally, stepped back to see what we made.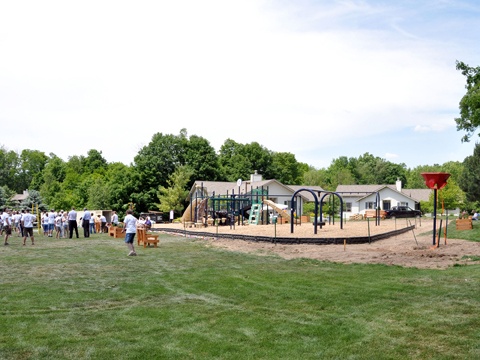 …making us more successful than we could ever imagine!
Joined by community leaders, volunteers, and heads of the contributing organizations, we all gathered 'round to cut the ribbon—not your ordinary ribbon, by the way; but one created and decorated by the children for whom this playground was built. What a great reminder of the reason we were all there that day!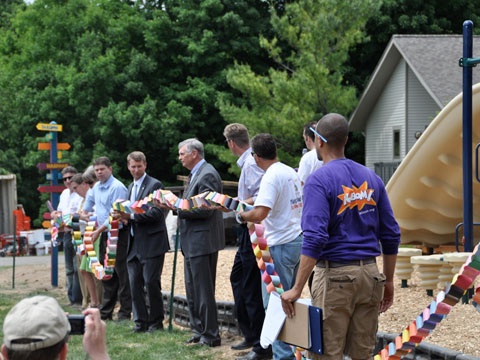 Being a part of something this big that was so successful was pretty inspiring. My thanks and admiration go out to KaBoom, who have built more than 2,000 playgrounds all over North America, and D.A. Blodgett - St. Johns for making an incredible difference in the lives of so many people in our Grand Rapids community. Truly, together everyone achieves more!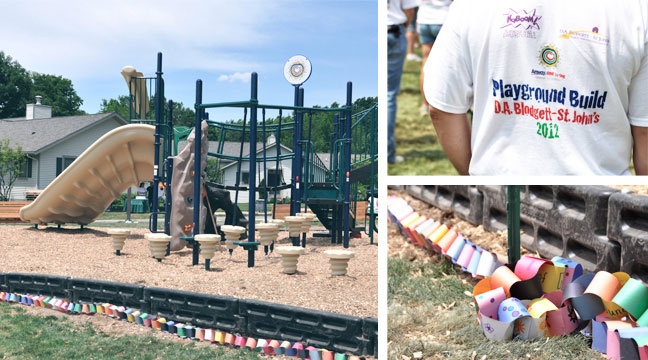 Do you have a team-building or volunteer event you'd like to share? Tell us about it in the comments below!