Thank you.
These two small words, when put together, mean something so HUGE. They meet the core need we all have as individuals: to be seen and loved. Or, in workplace terms: recognized and appreciated.
Recognition is defined as the identification of something as being seen, heard, or known.
Appreciation, by definition, takes recognition one step further. It doesn't just recognize facts, but has an attitude of gratitude. It's the personal and heartfelt addition to your words of recognition. For example: Letting your nurses know how their efforts contribute to the bigger picture of your hospital, doctor's office, etc.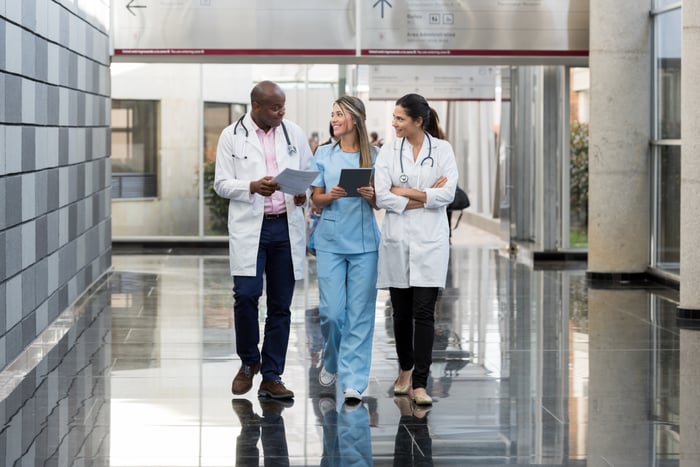 So, when you take the time to thank your nurses, we can pretty much guarantee that two things will happen:
1. They will feel great.
Truth be told, it's not ALL about what you get them or what exactly you say. Most of the benefits of a gesture of appreciation come from how you made them feel. Having an attitude of gratitude and expressing thanks to your nurses on a regular basis makes them feel great. Appreciated. Accepted. Part of the team. Connected . . . and the list goes on and on.
2. They will work harder.
Because they know their work has value, they'll be driven to work harder. They'll have that extra spring in their step, intentionality in their actions, focus behind their tasks, and purpose behind their work.
That's the power of saying thank you! Though two words seem so small, they are powerful. That's why we encourage you to thank your nurses during National Nurses Week.
How Can You Unleash the Power?
Over the years, we've come up with many great, timeless, and time-tested ideas for celebrating, thanking, recognizing, and appreciating the nurses who work so hard for you day in and day out. So, we've combed through our blog posts and rounded up a few favorites here:
1. Treat Them!
From our Give a High Five for Nurses and Hospital Week post comes this sage advice: Just because they work in healthcare, doesn't mean they won't enjoy a sweet treat! Make a batch of your favorite homemade cookies, or check out one of our sweet appreciation gifts and give them to your team or favorite healthcare professional. Add a gift tag or handwritten note to make the gift more personal.
2. Encourage Them!
Our Top Five National Nurses Week Gifts post says: Sometimes people just want to know that they're appreciated. A simple thank you card with a personalized, handwritten note can go a long way. (Just be sure to follow our tips above about making it personal and genuine.)
3. Have Fun with Them!
In our Five Free and Low Cost Ways to Celebrate National Nurses Week post, we gave the idea of playing a game: You can easily coordinate a game in the cafeteria to take place during breaks. Set up a bean bag toss or Minute to Win It game. Have a tablet of paper nearby so staff can record their score and track the performance of their peers. Or, print out a puzzle that your staff can complete during their lunch. Enter all correct puzzles in a drawing for a prize.
4. Reward Them!
Nurse gifts that speak specifically to the nursing profession are extremely popular for National Nurses Week. Did you know we have an entire line of products dedicated to nurses? They feature rockin' sentiments, like: "Making A Difference: It's What Nurses Do" and "I'm a Nurse. What's Your Superpower?" with awesome nurse-specific designs. Check them out here!
5. Go Above and Beyond for Them!
Think you've done enough? Think again! Take your ideas one step further with hospital decorations (we're sure our Nurse Appreciation Print-n-Posts will complement any décor), patient participation and thank you notes, a team outing, catered lunch, or another fantastic idea.
How are you planning to celebrate National Nurses Week? Let us know in the comments below!
Want more content like this? Subscribe to our emails!