National Nurses Week is an ideal time to recognize the hard working staff members who make your healthcare organization a great place. This is the week to really let nurses know you appreciate their efforts all year round. Here are a few ideas to make it a memorable week:

Create the right atmosphere
In advance of National Nurses Week, be sure to decorate the break room, hallways and bulletin boards with posters that generate excitement for the upcoming celebrations. If you have any special events during the week, like a lunch, send each nurse a personal invitation to attend.

Reward your nurses
Thank your nurses for their valuable contributions with certificates, awards and special gifts. We've created We Appreciate You to make this year's event memorable. You could deliver a gift each day during the week. Start with a tote bag, so they can carry their gifts with them all week long, or end the week by giving everyone their gift at one large gathering.

Have fun
Games and contests of all kinds are great for relieving stress and building teamwork among your nurses. Plan an activity for each day during national nurses week and be sure to award themed prizes to everyone.
Host festive parties
Everyone loves a party and some recognition, so why not invite the organization's President or a community celebrity to make a few remarks at a kick off event?

Blow your own horn
Show the rest of the organization and your patients just how great nurses are! Share information about the personal accomplishments of your nurses during the week. If a nurse recently ran a marathon, went on a service trip, received a master's degree, or was on the news, tell everyone about it! Your staff will be excited to receive the extra recognition.
Individualized Rewards for Healthcare Professionals
In order for recognition to be effective, your rewards must be as diverse as your people! Each person is unique, so rewards cannot be one size fits all. It is important to determine what is meaningful to the recipients and give them choices. To find out how your nurses like to be appreciated, have them complete a survey that states their preferences.
To give nurse rewards, you must determine what behaviors you are rewarding. For example, do you want to reward excellent attendance? High patient satisfaction scores? Those who demonstrate the desired behaviors may select the reward of their choice, such as: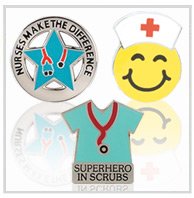 Themed travel mug for bringing coffee into work
A reserved parking space if their choice for one month
Lapel pins to display the recognition

Gift certificates for the cafeteria

Quick Tips: Morale Boosters
Don't let National Nurses Week be the only time you celebrate your staff this year! In the current economy, everyone is in need of a morale boost. Keep spirits high and attitudes positive by trying out some of these fun and easy-to-do tips:
Reduce the stress in the hallways by tossing Squeezable Praise at staff as they walk by!
Host a lunch-time game tournament. Skip-Bo, Uno and Phase Ten are easy to play anywhere!
Focus on the positive in your school by passing along Tokens of Appreciation.
Celebrate March Madness! Encourage staff to support their favorite team by wearing team t-shirts to work.