Last week we wrote a blog post giving you six ways you can recognize your introverted employees. This time, we're talking about extroverts—those who truly believe in "the more, the merrier" and enjoy working in groups more often than not.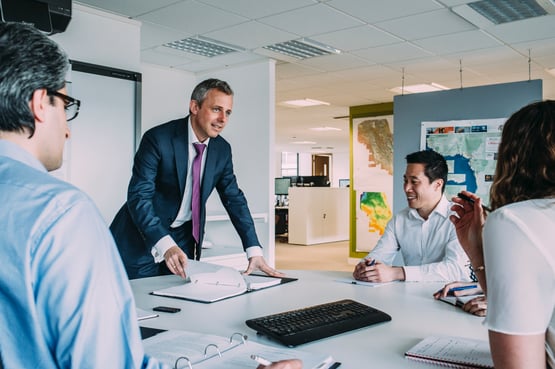 Extroverts deserve to be recognized in ways that resonate with them and their personality, and below are a few ways you can do it:
Publicly recognize them. Give a quick shout-out to an employee who's gone above and beyond in your next team or company meeting. They'll thrive off the public praise and be driven to work even harder on the next project.
Make milestones a big event. Whether you're celebrating the successful end of a big project , a promotion, or a work anniversary, be sure to make it a big deal. Socializing is what extroverts are all about, so they'd love the opportunity to get together with coworkers at a work party or team lunch. Plus, it gives their coworkers the opportunity to share their own well-wishes and congratulations.
Ask them to talk about their achievements. Has your extroverted employee done something amazing? Ask them to share some key learnings and successes in your next team meeting. They don't mind being put in the spotlight and will be more confident sharing on the spot than introverts. It's a great way to make them feel valued and appreciated, while also giving your other employees opportunity to learn from their success.
Offer to help with a project. While this isn't always an obvious form of recognition, it's an appreciation best practice! By offering to help with a project, you're alleviating some of the work for your employee, which shows that you appreciate the amount of work they do. When you approach them to offer to help, it also shows that you want to spend time with them, collaborating and working together toward a common goal. Teamwork is an environment where extroverts thrive, and the more opportunities they have to work with others, the more productive they are.
Give them a gift. With extroverts, gifts matter. They love having something they can display to show their achievements. Trophies or plaques with a personalized message are great options that your employee can set on their desk for all to see. Don't be afraid to get something that's a little fun and funky, so it stands out from the rest. Or, gift them an experience (like tickets to a local event) so they can enjoy spending time with others.
Be the Change!
The biggest difference in showing appreciation to extroverts and introverts is the delivery. The underlying sentiment and goal is the same, while the delivery is tailored to your employee's personality so they feel the most valued.
If you start to show appreciation in ways that speak individually to your employees, they'll start to notice. As the recipient of praise, they'll be inspired to work hard and produce great results. As the observer of praise, they'll learn from you how to be a great leader in the workplace.