Hectic schedules and fast-approaching deadlines make appreciating the contributions of others easy to forget. Too often, we glance over the kind gestures and positive people in our workplaces.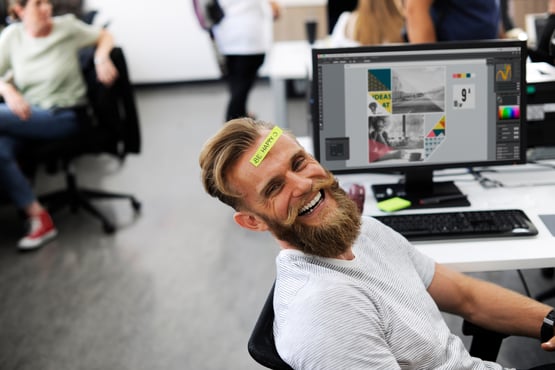 But don't let the daily grind keep you from truly noticing, and most importantly, recognizing everyday awesome! You might make "thank you" a common part of your communication with the people on your team, but there are hundreds of other opportunities to take someone's day from meh to yeah!!
Here are 8 people you may not be recognizing at work:
Janitorial Staff – Your deskside trash can doesn't magically empty itself and your bathrooms don't remain spotless because no one in your office is messy (please). Because these individuals likely work their magic in the off hours, you may not witness their attention to detail in action. Leave a note on the counter in the restroom thanking them for doing such a great job or leave them a little gift in their supply closet!
Security Guard – If you work in a large building or in a city, you may have a security team that checks employee badges and vets every visitor, ensuring the safety of everyone in your building. Next time you pass through security, express your heartfelt gratitude for the important work they do.
Your Manager – While you may sign off in every email communication with "thanks!" go above and beyond with your appreciation. You may not always agree with the decisions of your manager, but keep in mind that being a boss is no picnic. Encourage them in their leadership role by focusing on all the things you admire about them!
Your Executive Team – You've heard the saying, "It's lonely at the top." Being a leader requires humility, wisdom and the discernment to make difficult decisions even when it's unpopular. Send a simple and thoughtfully written email to an executive of your business and acknowledge their legendary leadership skills!
IT Helpdesk Staff – The individuals that make up your helpdesk staff are dedicated problem-solvers and helpful as can be! Don't wait until you experience computer issues to thank your IT geniuses. Stop by their workspace to thank them for their efforts to make your technology and workplace run like a well-oiled machine.
Administrative Professional – Administrative professionals are so vital to the success of your business that there's an entire day in the spring dedicated to celebrating them! These organizational masterminds should be praised for their unique skill set and positive attitudes any chance you get!
The Enthusiastic Newbie - Starting a new job is daunting. Encouraging and recognizing your new recruits not only boosts their confidence, but also helps deepen their connection with your organization. Keep an eye out for their fresh, new ideas and recognize their awesome energy every change you get!
The Passionate Tenured Employee - Working with the same company for 10+ years is a feat in and of itself, but when that individual still comes to work every day with the same passion and excitement they did when they first started, recognition is in order! Shoot these "unicorn employees" an email to thank them for their years of service and passion for your organization!
From this list, hopefully you found at least one additional person to add to your recognition routine. Is there a person or group of people you would add? Tell us in the comments below!