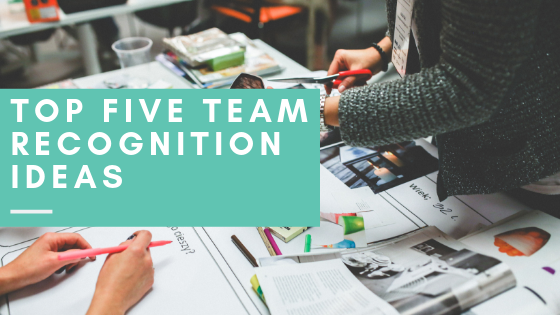 Teamwork makes the dream work! Recognizing your team and their efforts for a project well done or pushing through a rough quarter, is a great way to boost morale and increase employee engagement. We all know that it takes a team's effort to get things done, so you should be recognizing it!
The top five ways to show recognition to your team:
Team Pizza Party
No, you don't have to be six years old and in first grade to appreciate a pizza party. Adults probably love it more anyway! Providing lunch with a laid-back feel will allow your team to relax and bond together. It's an easy last-minute recognition idea as well!
Casual Week
If dressing casual isn't part of your standard dress code, give your team permission to wear jeans for a week as a recognition reward. Other teams will wonder what the reason is behind your team being casual, which gives you yet another opportunity to sing their praises!
Team Gifts
Personalized tumblers, team gear, matching journals, oh my! A gift for each member of your team can help unify your team members as well as give them a sense of pride.
Team Outing
Scoot out early and enjoy happy hour! Or do some team bonding by heading to a baseball game or ropes course!
Dessert Bar
Set up an ice cream station, bring in the donuts, brownies, candy, and cookies. Spare no (dessert) expense. Add puns to your appreciation like:
We'd melt without you!
We donut know where we'd be without you!
We need s'more staff like you!
Our team is made of a bunch of smart cookies!
Thankful for a sweet team!
So fortunate to have you all on my team!