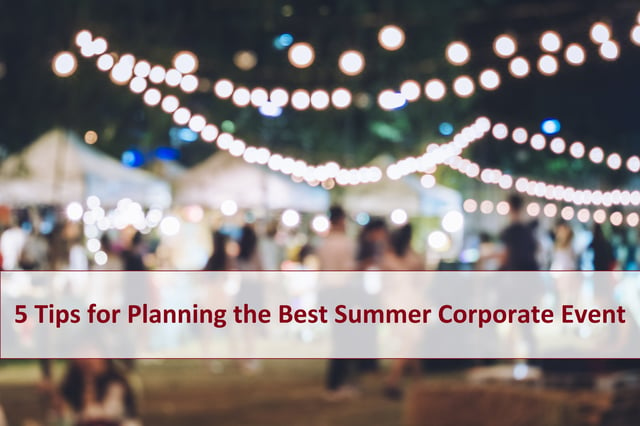 It's the most wonderful time of the year….summer, of course! So, why not take advantage of this beautiful weather and positive attitudes by planning a corporate summer outing. Sounds fun, but also a little daunting, right? Well, let this guide help ease your stresses!
Save the date! First, it's important to take a look at the corporate calendar as to not book an event during a busy season or when other events may be going on. Is there a downtime that works best for your company? Maybe it's an evening or weekend event so everyone can attend? Solidify a few dates and times that work best for your company.
Location, location, location. Once you have a few dates in mind, it's best to find locations nearby that can accommodate your size company. Using your local tourism and convention bureau can help to narrow your search. It's also important to start thinking at this time what kind of activities you want at this event. Depending on if you want a more laid back outdoor event will lead you to local parks or even a local baseball game. If you would like something more formal, check out local restaurants.
Snazzy invitations. This is your first impression to kick off your best summer event yet, so make it count! Send out an evite that includes the theme to your party to get people excited. This invitation should include all of the basic information of the event (who, what, where, attire, etc.) while still keeping some things secret to keep people wanting more!
Have a feast! Or at a minimum have a good menu. Whether you just plan to have drinks and appetizers or a full blown feast, pick a menu that includes foods paired well with your theme or stick to local, fresh, summer foods.
Keep them entertained! Keep the event light and fun with entertainment they will be talking about for months after. Hire a standup comic, host an interoffice "roast" or book a live band to ensure high attendance. Door prizes or giveaways always keep people excited and may ensure a solid turnout.
Having a summer corporate event can keep employees engaged and reenergized about the company they are working for. Everybody enjoys some time to kick back and relax and after the event your team can return to their work with more energy and zest, which ultimately means a happier work environment. So, get to planning – it's worth it!