The school year is coming to a close, and both teachers and students are looking forward to their summer vacations! Before school is out for summer, it's important to thank the teachers for their hard work and dedication. After all, they spend a lot of time with your child!

When you package your end of the school year teacher gift, be sure to include a personal note or card. A handwritten note that mentions specific moments from the school year will make a huge impression on the teacher. Long after the gift has been used, the handwritten thank you will remain as a touching tribute to the teacher. You can also attach one of our free printable teacher appreciation Print and Posts for a fun appreciation message.

Here are five end of the school year teacher appreciation ideas that will say thanks:

1. School Supplies Tower.
Teachers are always in need of more school supplies! At the end of the school year, refill your teacher's supply cabinets with crayons, notebooks, pencils, rulers, and more. Your teacher ill appreciate the practical gift, and the unique presentation will make the gift memorable! You can find several arrangements of this teacher appreciation idea on our Gifts for Teachers Pinterest board.
2. Fun in the Sun.
Help your teacher get ready for a relaxing summer with a summer-themed gift. Arrange a beach towel, sunscreen, flip flops, and magazines or paperback books in a beach tote. You could also include a gift card to a local bookstore, so the teacher can choose her own beach reading or buy supplies for the classroom. Your teacher will be able to take the bag directly to the beach for some light reading and time in the sun!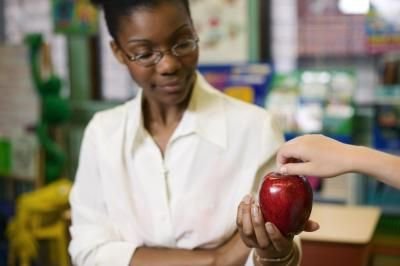 These teacher appreciation ideas are better than an apple!


3. Class Pictures.

For a truly personal end of the school year teacher appreciation idea, utilize pictures of the class from the school year. You can frame a class picture in an
engraved photo frame
with a personal message for the teacher, create a photo book, or work with a group of students to make a photo collage.
4. Sweet Treat Send Off.
The final days of the school year can be stressful and hectic. It's a perfect time to show your appreciate with baked goods! Make your teacher's favorite treat or one of your specialties. Make an effort to personally deliver the treat so you can say thank you face-to-face. If I were a teacher, this would be my favorite teacher appreciation idea!
5. Teacher Awards.
Parents and students are often the ones giving teacher appreciation at the end of the year, but the school should be involved, too. The end of the school year is a great time to present awards to teachers for outstanding service and accomplishments. Create certificates for your award winners and take their picture with the Principal or Superintendent. Submit the photos and a press release about the awards to the local paper to give your teachers the recognition they deserve!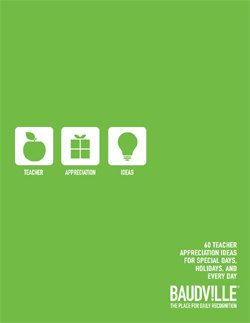 Do you want more teacher appreciation ideas? Download our free Teacher Appreciation Ideas eBook for 60 different ways to thank teachers!
-----------------------
Cori is Baudville's in-house Recognitionista (she's officially a Certified Recognition Professional, too) and a member of the Millennial generation. Get her employee recognition tips and special discounts by liking Baudville on Facebook.