Create the right atmosphere
In advance of teacher appreciation week, be sure to decorate the teacher's lounge and hallways with balloons and posters that generate excitement for the upcoming celebrations.

Host festive parties
Everyone loves a party and some recognition, so why not invite the principal or school board president to make a few remarks at a teacher appreciation week kick off party? At the end of the week, celebrate a successful teacher appreciation week with a special catered lunch or dinner outside of the school.

Blow your own horn
Show the rest of the school and the students just how great teachers are. Share information about the personal accomplishments of your teachers during teacher appreciation week. If a teacher in your building recently ran a marathon, went on a service trip, received a master's degree, or was on the news, tell everyone about it! Your teachers will be excited for the extra recognition.

Acknowledge all school staff
Without all the staff members in a school – nurses, administrative assistants, janitors, and administrators - teachers could not be as effective at their jobs. During teacher appreciation week, show others that the teachers appreciate those who contribute to taking care of the students and the building.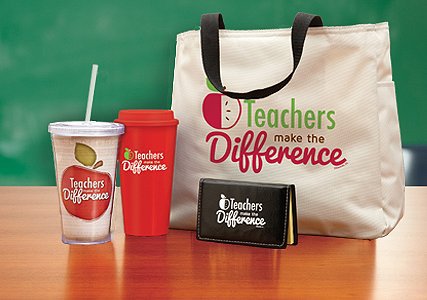 Build activities around a theme
Consider a theme to use as part of teacher appreciation week and then incorporate it into all events and materials.

Have the students say "Thanks"
Let your teachers know their work is appreciated by having all the students put together their own personal signs of appreciation. Students can create individual thank you cards or work together on a large banner to display in the school hallway. Appreciation from the students will be a memorable and personal touch to teacher appreciation week.

Reward your teachers
Thank your teachers for their valuable contributions with certificates, awards and special gifts. Maybe place a gift in their classroom or in the teacher's lounge each morning during teacher appreciation week.

Reduce stress
Host a stress relief break during teacher appreciation week. Ask teachers to share ideas for reducing stress, review deep-breathing techniques and provide hands-on tools to recharge and refresh.

Have fun
Games and contests of all kinds are great for relieving stress and building teamwork among your teachers. Plan an activity for each day during teacher appreciation week and be sure to award prizes to everyone.