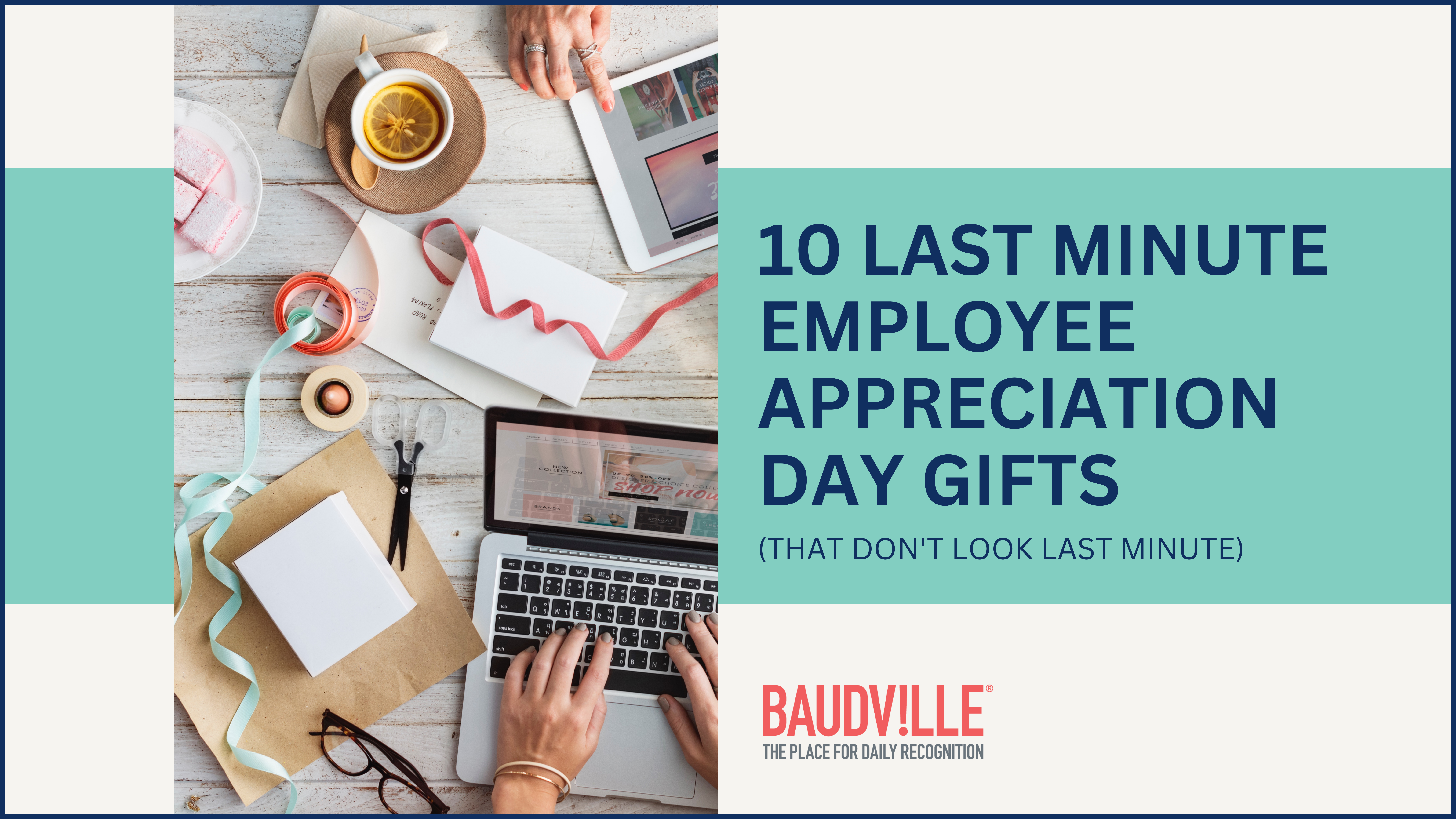 We're just two weeks away from Employee Appreciation Day (March 3)! AHHH. We're excited and hope you are too, but we know some of you out there are stressed out rather than excited. We're looking at you, procrastinators! Don't worry though because we've been there and done that, and we know that you ~thrive~ under pressure.
For you last-minute shoppers, we're here to help you out with a ton of great gifting options that will get to you FAST (like Jimmy Johns fast). And the best part is that these last minute options don't look last minute – they're fun, quality, and practical, all the ingredients needed for a delicious employee appreciation gift. Let's dive in and get shopping!
10 Last Minute Gifts for this EAD
1. Delightly Quick Ship Kits: These gifts are in stock and ready to ship FAST! With tons of options that are carefully curated and hand packaged, there is something for every member on your team, from the readers to the happy-hour lovers. The kits are shipped out on the same day when ordered by 3pm EST with quick shipping as a cherry on top. That's multiple gifts all wrapped into one in a stunning, sturdy box – AKA gifting made easy!
2. Custom In-House: Add your custom artwork or logo to our in-house custom products! Personalized in-house, these bad boys have no order minimum and get to you pretty dang quick. With 60 options to choose from you are sure to find the perfect drinkware, tech gear or office accessories for every member of your team. Simply select your product, click "personalize it," "message options," and then "your custom artwork." From here, you can add artwork or text to create a one-of-a-kind gift. Each custom piece is subject to a two day production time after proof approval, and then POOOOF! – it's shipped quickly to your doorstep.
3. Engravable Must-Haves: High-quality executive gifts don't have to take forever to get to your doorstep (or….officestep?). At Baudville, custom engravable executive gifts like crystal clocks, pen sets, paperweights, and wireless chargers are engraved in-house and ship same day when ordered before 3pm EST. Plus, with price ranges from $10 up to $119.99, there is a gift for every budget. We love these gifts because they are personalized and unique while also featuring sleek and executive designs.
4. Delite by Delightly: Smaller box, smaller budget, same big feels! Expertly curated with the same thoughtfulness and creativity as our larger kits, these smaller gift sets pack a big punch. They are shipped out on the same day when ordered by 3pm EST, get to you fast, and are all ready for gifting upon delivery. We love this option because it lets smaller budgets experience the same luxury of executive gifting.
5. Custom Trophies: Employee Appreciation Day is all about recognizing your best and bright. Award them with unique, quality trophies! In-stock trophies ordered before 3pm EST are shipped same day. So pick your trophy, add your personalization, and place your order! They come quick and are delivered in executive black Baudville display boxes that are ready to gift.
6. Copper Keychains: Looking for a small gift with a big impact? Our collection of copper keychains are quality and fun – a perfect little token of appreciation! All under $10, they are a great value option for any budget. Plus, they are in stock and ready to ship right to your door!
7. Value Drinkware: At Baudville, we're passionate about quality drinkware. We have over 200 options from stainless steel bottles to ceramic mugs with prices for any budget. You can fill up the drinkware with candy, snacks, small desk accessories, or office supplies to create the ultimate Employee Appreciation Day gift set. Spread appreciation and encourage hydration with our in stock and ready to ship drinkware selections.
8. Desktop Plants: Plant seeds of appreciation today and watch your corporate culture grow for years to come! With a ton of plant gift sets, your employees can literally watch your appreciation for them grow. Each kit comes with everything they need to care for some desktop greenery. Plus, all plant gifts are in stock, ready to ship, and will get to you fast!
9. Health & Wellness: It's easy to get stuck in the corporate America work grind, which means it's extra important to be intentional when encouraging health and wellness in the workplace. When you encourage a healthy work-life balance, you reduce rates of burnout and turnover. Plus, who doesn't LOVE a spa day? These health and wellness gifts are ready to get to you fast.
10. Office Supplies: Office supplies, in many ways, are office essentials. From notebooks to pens and sticky notes, these supplies are always an Appreciation Day winner for your most avid note-takers and goal-getters. Plus, these products are in stock and ready to ship!
So there you have it: 10 gifts perfect for last minute Employee Appreciation Day shopping. From gift kits to custom trophies and everything in between, there is something for everyone on your team. Shop now and appreciate tomorrow!
Looking for some more EAD tips and tricks? Check out these additional blog posts:
Interested in chatting with your rep? Find your account manager here - and they'll touch base with you to find a good time to discuss your vision!
We've had the privilege of working with some amazing organizations to develop a branded, special experience for their team.
We appreciate their trust in finding the perfect fit, and we're so excited to highlight how they turned out!
Whether you're just dipping your toe into the custom experience, or you're an old hand at it, we know that together we can pair up to make an amazing impact for you and your organization!
Want more content like this? Subscribe to our emails!