The onset of summer (AKA bathing suit season) brings equal parts excitement and terror for many people. Before the dog days arrive, take a minute to assess your current workplace wellness program. Ask yourself, "Are people really going to go to the employee intranet page, search for the employee fitness program link, log every step they take, every glass of water they drink, blah, blah, blah..zzzzzz"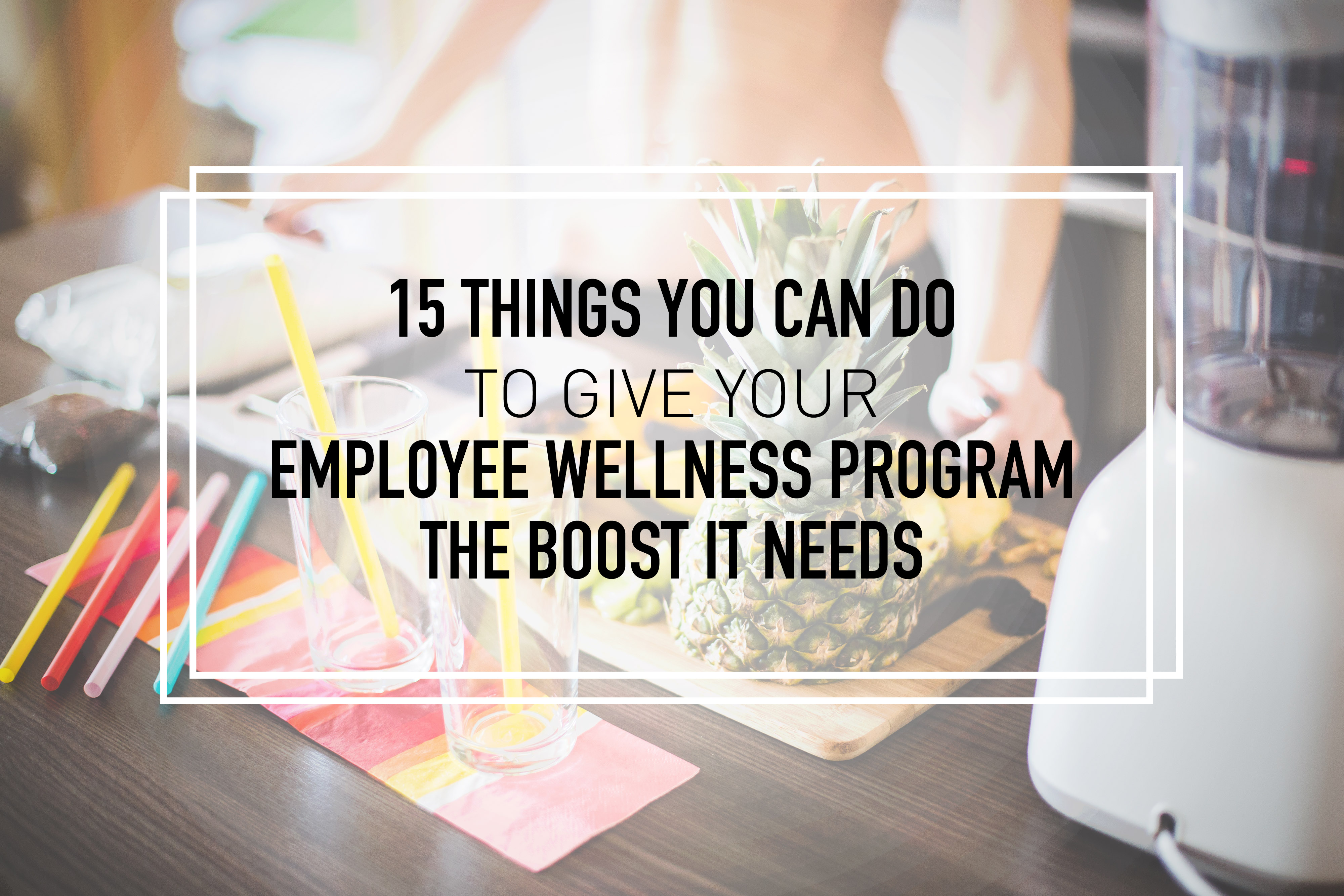 There's no need to hastily uproot any of the challenges or incentive programs your organization has used for the last several years. But look to these tips to add a little extra pizzazz to your current wellness and fitness curriculum.

1) Host a health fair
Invite local dieticians, personal trainers, and public health professionals to offer free BMI screenings and health assessments during lunch. Their expertise will help your employees gain better insight into their own health and will empower them to live a healthier life!

2) Hold walking meetings
Whether it's a brainstorm session or a weekly check-in with a manager, encourage employees to get some fresh air and exercise while they meet. Who knows, the best ideas may come to them after a few laps around the block!

3) Encourage crop swapping
Set up a table in a common area where people can bring the zucchinis, green beans and sweet corn (my personal fav) from their garden to share with their coworkers.

4) Offer discounted fitness gear
If you have some wiggle room in your budget, subsidize fitness gear and technology to help people better manage their weight and overall progress! Be economical and a tiny bit old school and provide everyone with a pedometer, or offer discounted Fitbits to the whole team.

5) Support local farmers
If you're lucky enough to be headquartered in an area where fresh and seasonal produce abounds, support your local farmers by setting up a co-op. Employees can pay a small monthly fee to receive a bag of farm-fresh fruits and vegetables delivered to the office every week!

6) Support smoking cessation
Provide some kind of incentive for employees who are trying to kick their smoking habit. According to a University of Pennsylvania study, employees who are monetarily incentivized to quit smoking are 3 times more likely to actually follow through.

7) Make kickball cool again
Allow people to relive their middle school glory days and join a local business league or make a league of your own!

8) Host inter-office Olympics
Spice up your workday with a little bit of friendly competition with your very own Office Olympics! We love this idea so much we wrote an e-Book about it!

9) Budget for standing desks
We've got a few standing desks floating around the 'ville, and our employees love them! They're perfect for those of us who happen to be a bit fidgety.

10) Ditch the soda machines
While a coke might give you the zip you need to complete a long workday, just one can of bubbly has over 44 grams of sugar. Yikes. Offer carbonated or flavored water as healthy alternative!

11) Have summer salad bars
We just launched our summer salad bar and we love it! Have every participant sign up to a bring a salad topping and see who can concoct the most nutritious and delicious meal.

12) Make a Company Cookbook
Ask everyone to bring in their favorite healthy recipe and compile a company cookbook that will make dieting a breeze for your employees!

13) Offer fitness classes
If there's a large meeting room or unoccupied common area during lunchtime, provide fitness classes for motivated employees. Can't afford a personal trainer? Simply project a workout video on a screen and voila!

14) Buy office bikes
Have a few company bikes always parked outside your building and let employees go on a de-stressing joy ride during lunch!

15) Create a wall of wellness
Make a space where people can share their wellness tips, tricks and advice for each other.

Still looking for ways to take your employee wellness program to the next level? Find more of our best health and wellness blogs here!

Abby moved to the great state of Michigan and joined the Baudville team as the Digital Marketing Coordinator in 2016. An admitted social media fanatic and grammar-lover, she's excited to play to her strengths by contributing to Baudville's blog, social media channels and e-marketing efforts.