How does your organization define Employee Engagement?
Did you know that highly engaged employees are 87 percent less likely to leave their companies than disengaged counterparts1?
Engagement is uncovered in the vibe, the whispers, the happy hour banter, the passion – not just for the work, but for the company, for management, for leadership. It's what makes or breaks your company's culture.
Are your employees engaged? How do you know?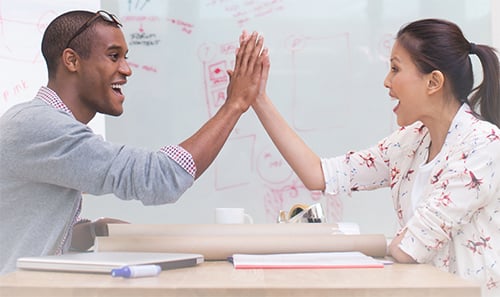 Bersin by Deloitte finds that U.S. companies are spending $720 million on employee engagement strategies annually, while $450-$550 billion is being lost annually to lack of engagement!
What is your company doing in 2015 to positively impact Employee Engagement? Here are four proven strategies your organization can employ to start a positive trend of increased engagement and culture enhancement.
Employee Engagement Strategy #1: Culture Integration
First things first, as recruiting and hiring ramp up in 2015, what you do with your new hires in the first six months will keep them coming back, or have them running for the nearest exit. In fact, research has found that strong social connections at work lead to higher productivity and lower turnover rates.
One of the first things your company can do to enhance organizational culture in 2015 is put a clear training and integration process into place. Help your new hires develop relationships with the people around them by assigning newbie buddies, or develop camaraderie among an entire class of new hires by having them flow through your training and orientation process as a group. As they share experiences, relationships and bonds will build naturally and before you know it job satisfaction and employee effectiveness are on the rise!
Employee Engagement Strategy #2: Communication
Guess what? Employees like to know what's going on. I was watching the 2009 movie, Extract, this weekend – a fave with Jason Bateman and Ben Affleck. In this movie there's a classic case of lack of transparency and communication from leadership that ends in rumors and unnecessary employee uprising. This type of lash-out, while exaggerated in the film, is all too common in today's workplace. Without clear communication from company leadership, the rumor mill starts churning, grumblings grow and spread, and before you know it, your employee engagement is extinct.
Does this mean you should give every employee access to your Board Meeting minutes? No. But what you can do is make sure that your strategic goals for the organization are communicated, that changes are announced and reasoned, and that your frontline supervisors and managers are equipped with the tools and information they need to keep their staff informed, included, and interested in the who, whats, and whys.
Why? Because employees who feel included are more likely to go above and beyond the call of duty2. They are more likely to develop and implement better processes and workflows for your organization. In 2015, these are the types of employees you want on your team; engaged, passionate, company-loving employees. To get there: communicate, communicate, and communicate again.
Employee Engagement Strategy #3: Recognition
The number one reason Americans leave their jobs is because they don't feel appreciated. Managers who take the time to recognize their staff are proven to have a 60% higher employee engagement rate in their departments.
Think about it: when you feel recognized and appreciated for the work you do, it makes doing the job more worthwhile, right? It's simple, really.
Employee recognition doesn't have to be complicated. It doesn't even have to cost you anything. In its purest form, employee recognition is acknowledgement (words) for a job well done. It's timely, sincere, and personal. "Dave, thank you for staying late to finish up that job tonight." "Jennifer, you're doing a great job – I know those reports are a pain, and I appreciate your hard work." "Sarah, your idea about _____ was outstanding! Thanks for sharing it!" "Mike, your knowledge and expertise are so valuable. I'm glad you're on our team." "Karen, you make coming to work fun. Thanks for making me laugh."
Easy, right? You've got this goal in the bag! To learn more about Employee Recognition, Peer-to-Peer Recognition Programs, and Non-Cash Awards, download our free white papers. Share them with your leadership or management teams, and start a recognition revolution in your organization in 2015!
Employee Engagement Strategy #4: Opportunities
83% of working professionals consider the ability to learn and grow essential to their ideal job3. Where does your corporate ladder lead? Are you actively pursuing educational and advancement opportunities for your employees?
Engaged employees want to know that you value their career path. As a company, having goal-driven employees will not only drive their engagement, it also results in a measurable return for your company when their goals align with your organization's goals.
If you don't know what your employees want out their careers, ask! Start talking to them about their vision of success and do your best to help them make it happen. When you shift your perspective on employee growth and advancement to view their knowledge as an asset rather than a reason for them to leave, you'll deepen trust and loyalty, and expand the skillset of the people on your team – and that makes YOU look good!

Don't Let Your Efforts Go To Waste: Measure Your Impact!
Start 2015 by conducting our Employee Engagement Survey. Adopt the above strategies, and then do a check-in midway through the year to see how your efforts are paying off!
1 As reported by global management consulting company Hay Group. http://www.hrotoday.com/news/talent-acquisition/on-the-agenda/
2 As reported by Catalyst. http://www.forbes.com/sites/karenhigginbottom/2014/05/14/employees-feeling-included-at-work-builds-high-performing-teams/
3 https://netimpact.org/docs/publications-docs/NetImpact_WhatWorkersWant2012.pdf
---
As a team member since 2005, Falon has worn just about every hat the 'ville has to offer. She's seen both sides of working life — as an employee and as a manager — so if it sounds like she knows what she's talking about, we're pretty sure that's why. When she's not juggling between the IDville and Baudville brands, she's been known to whip up a mean diorama - just like that!