It seems difficult to think that you could truly celebrate every person in your organization in 2015, but you can! There are two reasons every single employee will deserve to be celebrated in the coming year: their birthday and their work anniversary.
Stock up on greeting cards NOW for these occasions and you'll be prepared to celebrate when the day comes. To truly make the most of the moment, write a handwritten note in each card, or pass the card around for all team members to sign before the big day. The more personal you can make the celebration, the more effective your efforts will be!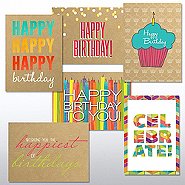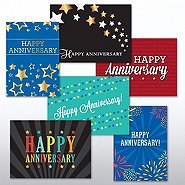 Can't think of the right words to say? No problem! Download and print our free Recognition Messages for Every Recognition Occasion cheat sheet and you'll always have the perfect way to express your appreciation for each and every employee!
Our new Awesome-in-a-Box Sets are perfect for celebrating birthdays, anniversaries, and everyday accomplishments. They each come beautifully-packaged with 20 items to make the occasion fun and memorable so that you're prepared for the moment when it occurs. Check them all out today!
Here's to making 2015 a year worth celebrating!!
---
As a team member since 2005, Falon has worn just about every hat the 'ville has to offer. She's seen both sides of working life — as an employee and as a manager — so if it sounds like she knows what she's talking about, we're pretty sure that's why. When she's not juggling between the IDville and Baudville brands, she's been known to whip up a mean diorama - just like that!