Mantra. "A group of words that have psychological power." Now, I wouldn't call myself a spiritual-guru per se, but I do know the power of positive words and reminders. Summer is upon us, and more often than not I find myself looking for motivation and ways to keep my eyes on the prize, refocusing on what's in front of me instead of the sunshine and blue skies outside while at my desk.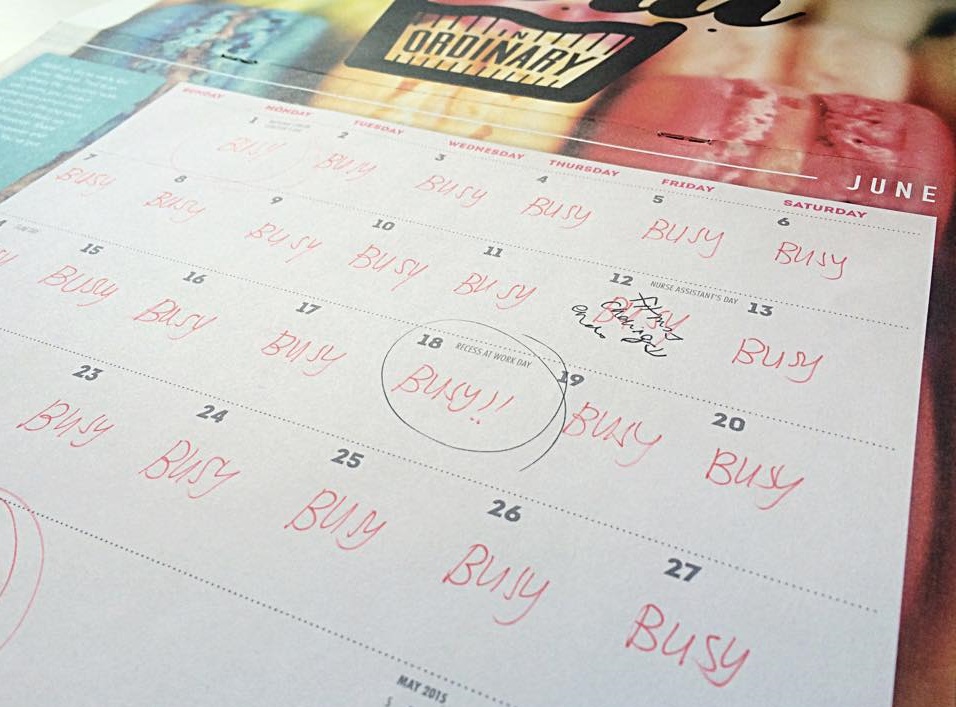 Our schedules fill up, and our heads start to spin as we try to balance summer plans and working 40+ hours a week. Aside from finding time to sneak over to the airport viewing area and lay in the grass on my lunch hour (I don't know if I'll ever find a better way to do lunch!) I knew I needed to do something to keep my mind from wandering, or if it did wander, I needed to make sure it was going in a positive direction. So often we can be physically at work, but mentally we're elsewhere and continually bringing ourselves back and refocusing. Busy lives = busy minds. I've seen co-workers jot down "diaper bag" on their notepad in the middle of a conference call that had nothing to do with diaper bags (and If it did, I definitely missed something.)
We've all been there. So how can we escape it?
I've found a handful of short mantras that are simple and effective ways to bring you back to center so you can work efficiently and get back to a productive mindset in the work day:
"Be here now." Exactly as it states, being in the moment is crucial. Telling yourself over and over again to handle the present now and the future later lets you notice the drift, and kindly come back to your work. Take a step back, redirect your thoughts, and remember where you're at and why you're there.
"Eat the frog." In the words of Mark Twain, eating a frog in the morning first thing pretty much guarantees that nothing worse can happen after that. Not that I recommend eating an actual frog, but the analogy is a good one: Tackle the hardest problem on your plate early in the day, that way everything seems like a breeze after that. Write it at the top of your to-do list or make a reminder on your calendar. Tackling from hardest to simplest makes the work day fly and tasks that take less brain-power land at the end of your day.
"Stay focused and extra sparkly." It's one thing to stay focused, but sparkly too?! That can be a feat. Some days there is not enough coffee in the world to keep me on my toes and focused... But I've found that reminding myself of these two things is the best thing I can do on a draggy day. I loved this one so much that I've got it printed and pinned into my cork board near my desktop so I don't forget!
Whether you print them out, write them down, or jot them on one of our chalkboard desktop easels (my favorite!), keeping a positive outlook to bring you back to working hard and feeling accomplished during the summer months that seem to drag is key to staying motivated.
Do you have any work-specific mantras to help you stay focused? Share them with us below!
---
Kaleigh joined Baudville in 2015 as the Digital Marketing Coordinator. She's got a love for all things content, knack for all things wordy, and a passion for web marketing. With her eCommerce background, she wants to be sure to make your web experience more than great.