Last year, we embarked on a journey to honor and celebrate our 30th Birthday as a company. We partnered with the Equest Center for Therapeutic Riding, a local organization whose mission is to improve quality of life for physically, mentally, and socially/emotionally challenged individuals through equine-based therapy. The goal of this partnership was to build a brand-new sensory riding trail on their beautiful property – the first of its kind in the WORLD.
With more than 1500 volunteer hours donated from our staff, we spent the summer of 2013 developing a mile-long trail with 13 different sensory stations to create a rich experience for all 5 of the senses.
It was such a gift to be part of the process through volunteering. Seeing the impact that the trail has had in just a year's time brings all of us at Baudville such joy. Here are a few highlights of what's progressed since the ribbon-cutting ceremony for the trail last fall:
- We expanded the trail to the west side of the property. A team of hard-working and skilled Baudvillians worked to build an impressive bridge that stretches over Stedman Creek, leading to a new horse aerobics sensory station and wilderness trail.
- One of our talented employees donated his time this spring and summer restoring "Fred, the Turtle," a fun sculpture that had been donated to the Center. He needed a lot of love! A fresh and rejuvenated Fred now sits happily on a comfy bed of sand just outside the pond where the entry to the west side of the trail stands.
- Hoof-trodden pathways leave evidence that countless riders have enjoyed the trail over the spring, summer, and fall months. We couldn't be happier about that!
Opening night of the trail will forever touch my heart. I believe John Agar, a long-time rider at the Equest Center, summed up our purpose for helping each other best: "Equest blazes the way for me and kids like me to achieve their dreams and reach their greatest potential. With YOUR help, more kids will be able to experience their future, not from just their wheelchairs looking up at others, but from atop a horse looking out over their future."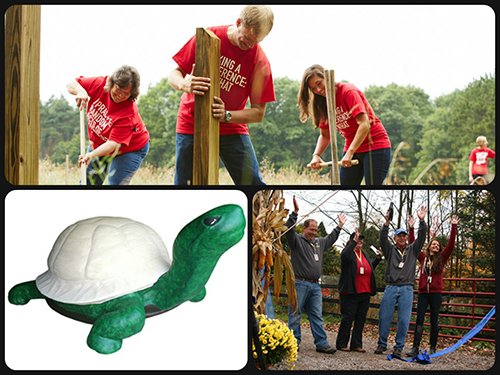 --------------------------

As a team member since 2005, Falon has worn just about every hat the 'ville has to offer. She's seen both sides of working life — as an employee and as a manager — so if it sounds like she knows what she's talking about, we're pretty sure that's why. When she's not juggling between the IDville and Baudville brands, she's been known to whip up a mean diorama - just like that!