Recognition goes wrong all the time. Between Steve Harvey crowning the wrong Miss Universe and John Travolta butchering Idina Menzel's name pronunciation, formal recognition has at times earned a laughable reputation. While the ceremony slip-ups your organization has may be less public than that of our friends Steve and John, your employees will take note of and remember a few faux pas.
When done well, a year-end award ceremony can make your top-performers feel honored and can inspire other employees to achieve greatness in the coming year. Here are a few common pitfalls to avoid this award season.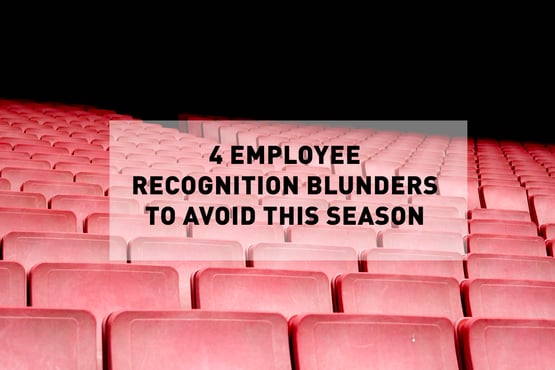 1. Focusing on Length of Service, Not Quality of Service
According to Bersin & Associates, 87% of recognition programs focus on tenure. It's not surprising then that many organizations focus their award ceremonies on those who have reached designated years of service. While acknowledging milestones is always an important aspect of any year-end celebration, it shouldn't be the be-all and end-all of your program
Ask your management team to keep an eye out for individuals who don't just show up to work, but come to work prepared and inspired every day. Whether they've been with your organization for 1 or 15 years, an engaged employee should be formally appreciated.
2. Not Allowing the Input of Others
Formal recognition shouldn't be left up to one person. When selecting the recipient for a coveted award like "Employee of the Year," be sure to include other leaders and managers in the decision-making process. Better yet, send out a survey to your entire staff and allow employees to nominate individuals who exemplify your company's values.
3. Making the Presentation Generic
A buzzword-ridden award ceremony not only lacks authenticity, but it's also a major snooze-fest for your guests.
To keep your award ceremony interesting and special, make your praise specific! A formal appreciation occasion is the time to make a fuss about the mad skills of those you're recognizing. While preparing your remarks for the big event, jot down a few unique talking points about each award recipient. Practice your tribute prior to the ceremony so that your praise is polished for the big celebration. Present the award in a style that reflects the individual receiving it!
4. Not Thanking Everyone
While everyone may not leave your celebratory shindig with a crystal trophy or shining foil certificate, they should leave feeling inspired and appreciated. Set aside a few minutes in your award program to formally thank your entire team for their hard work and dedication. Briefly highlight a few of your organization's biggest accomplishments from the year and emphasize the fact that they made those moments possible.
With a little preparation and a whole lot of inspiration, you can plan a year-end award celebration that will be remembered for years to come. What are your top award ceremony pet peeves? Tell us in the comments below!