The holidays are fast approaching! We've already heard Christmas music on the radio, and Starbucks has stocked their stores with their 2017 holiday cups. But with all the wonderfulness also comes distraction. What are your employees dealing with during the holidays that could potentially influence their work? We have a few thoughts.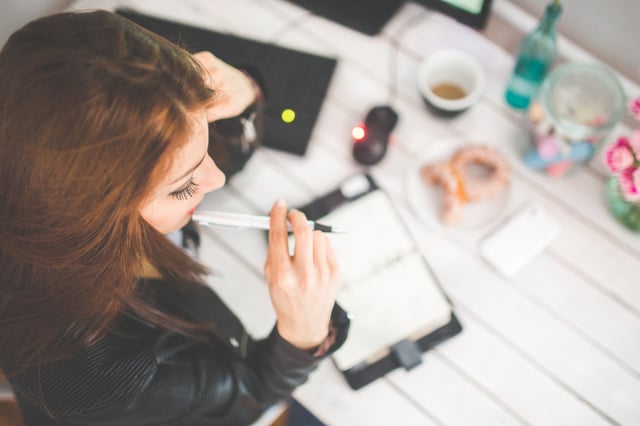 4 Things that Distract Your Employees During the Holidays
1. They're busy, busy, busy. Between holiday parties, holiday shopping, gift wrapping, and other holiday prep, your employees are BUSY in November and December. Plus, they're trying to get ahead on their work so they can crush their Q4 goals and take some much-deserved PTO.
So, what can they do to not just survive, but thrive this holiday season? Have the proper work-life balance. And as their employer, you can help! Maybe let them leave early one day to see their kid's holiday production, or let them work more flexible hours so they can hit the school holiday parties too. Or maybe allow them to work from home a day or two so they can put their head down, have minimal distractions, get things done!
2. Online shopping is more convenient than ever. Your employees are probably not going shopping at the mall over their lunch break anymore. More likely, they're browsing the internet for the perfect gifts . . . and maybe even during work hours. *gasp!* The lines are blurred when it comes to the Internet. One minute, they're researching how they can best improve the office mojo and the next minute, they're on Pinterest looking at a list of 100 cheap & easy DIY holiday gifts. (Notice how we didn't link that one—hehe—you're welcome.)
According to a 2016 CareerBuilder survey, the most popular solution for preventing wasted time on the Internet is to block certain websites. While you don't want to oppress your employees, setting up these healthy boundaries could make all the difference in their productivity.
3. Unexpected days off. This one's mostly for our cold-weather folks. During the winter, it seems like different employees are out sick every week. Colds and the flu seem to spread like wildfire around the office. Plus, working parents have a double whammy, because they have to worry about the bugs going around their kids' schools. Not to mention snow days, which are major buzzkills. When school is closed and they have no backup child care, they're stuck at home with the kids.
Instead of employees missing days of work, encourage them to bring home their laptop at the end of each work day. That way, if they get sick and are still able to work, they can do it from home so they don't bring their germs into the office. Or, if their kids get a snow day, they can still do some work from home as their kids enjoy building snowmen and drinking hot chocolate.
Oh, and here's another one: Try letting employees with longer commutes work from home in the morning during the winter months to avoid traffic during bad weather. It'll show that you care first and foremost about their safety, which will increase their loyalty. Plus, they may even start work a little early, increasing their productivity.
4. They're stressed out. Sometimes the holidays can be super stressful. For some, it could be money related—they don't have enough and stress about gift shopping, providing for their family, etc. For others, it could be family related—dysfunctional relatives, family drama or fighting, too many different gatherings to attend, etc.
Talking it out can help people deal with their stress and put things into perspective. And since employees spend 35% of their lives working, it's beneficial to have a friend at work with whom to talk. As a leader, it's important to create an environment that encourages friendships and overall good mental health.
We hope these tips inspire you to support and engage your workforce in new ways this holiday season. Cheers to a strong (and focused) Q4!