If you're not conducting exit interviews with your employees before they say "bye" and "see ya later," you're missing out. In many ways, an employee's exit interview is better than their first one. Why? They get to be a part of your company's future.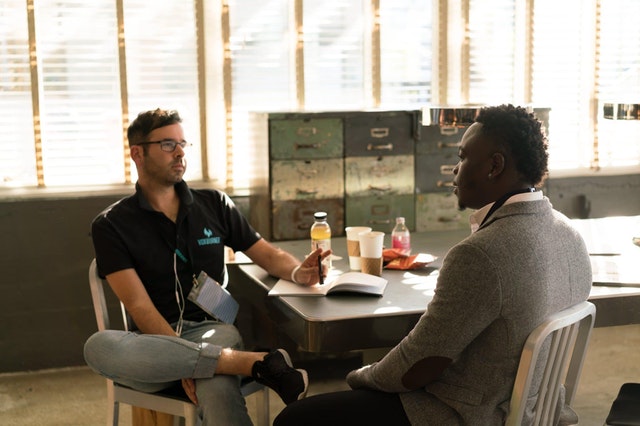 Seems a little backward, doesn't it? But alas, their candid insight is essential in seeing your workplace with fresh eyes. They may not be 100% objective, but their answers show you how they felt and what they experienced while employed by your organization. Which, as the employer, should be important to you. Because to shape a great company culture, you should be listening to ALL your employees and taking their input into consideration.
That said, exit interviews can be hard—and sometimes awkward—to navigate. So, our experts have compiled a list of 44 must-ask questions that are perfect for learning more about your company culture from the inside out. Whether they've been with you for two months or 20 years, adding all (or some) of these questions to your exit interviews will help you get the answers you need and the insight you're looking for.
True / False Statements
I had the opportunity to improve my skills.
I felt like my organization trusted me to contribute to their mission.
I am proud of what this organization offers to society.
I felt that I could maintain a healthy work/life balance.
My direct manager cared about my well-being and mental health.
My manager / director had a good level of transparency with the team.
The goals and strategies of this organization are taking it in the right direction.
My work here was both engaging and fulfilling.
Recognition is given in a timely fashion.
I felt that I was in control when it came to the work I needed to accomplish.
I understood how my work contributed to the goals of the organization.
I felt like I was paid fairly compared to similar roles within the organization.
This organization celebrates accomplishments and learnings.
I felt like I was connected to and part of a team.
My job responsibilities aligned with what I expected.
I was happy with my pay, benefits, and other incentives.
I would consider working for this company again in the future.
Rating Questions (On a scale from 1–10)
How would you rate your level of happiness at work?
How likely are you to recommend your organization as a good place to work?
How much did you trust your peers?
How would you rate the morale of your department?
How well / how often was your work recognized and appreciated?
How comfortable did you feel approaching your manager with concerns?
How well were you able to work together with your manager?
Open-Ended Questions
What is your primary reason for leaving?
What other factors, if any, contributed to your decision to leave?
What was most satisfying or fulfilling about your job?
What was least satisfying or fulfilling about your job?
What did you like most about your job? / this company?
What did you like least about your job? / this company?
Did you receive the support you needed to accomplish your goals and do your job well?
Did you receive sufficient feedback about your performance between your year-end review and mid-year review?
What was your relationship with your manager like?
How could your manager have helped you more on the job?
How did you view your chances for advancement?
What would you improve to make this workplace better?
How would you describe the level of challenge you had at work?
Overall, how did you feel about your level of work-related stress?
How would you describe the culture of this organization?
How would you describe the management style of this organization?
Did anyone in this company discriminate against you, harass you, or cause hostile working conditions? (If yes, get very specific details and examples.)
Do you have any suggestions of who we might hire or where we might find your replacement?
What skills and qualifications do you think we need to look for in your replacement?
Anything else you'd like to share?
Bonus: Best Practice Tip
No matter what questions you ask, make sure you're a great listener. Now is not the time to defend the company's intentions, but it IS the time to listen to someone's honest opinions, thoughts, and feelings. Showing support will not only help you navigate the interview that much easier, but will also leave a good impression on the employee who's leaving.