Employee engagement is one of the crazy buzzwords of the moment. Actually, more like of the last several years. A lot of employers and managers are feeling discouraged, fed up, and just plain down about the dismal numbers in Gallup's employee engagement polls. With only 30% of the U.S. workforce categorized as "actively engaged" and $450-550 billion in lost productivity dollars per year from symptoms of disengagement, who wouldn't feel borderline desperate to get a larger slice of the engagement pie? With all that hunger for a little more mozzarella, there's oodles and doodles of advice out there on how you can up your company's engagement.
In this month's 5 Fascinating Finds feature, we've rounded up five articles that'll tell you everything you need to know without wading through an endless sea of "Top 10 Tips." Take a gander at these premium articles with varied but insightful advice and decide what works best for you!
For Those in Need of a Laugh: Working Dead: The Cost Of Low Employee Engagement from Office Vibe. It's not exactly an advice article as much as a hilarious infographic that describes unengaged employees as workplace zombies, highlighting the costs of having "The Working Dead" amongst you.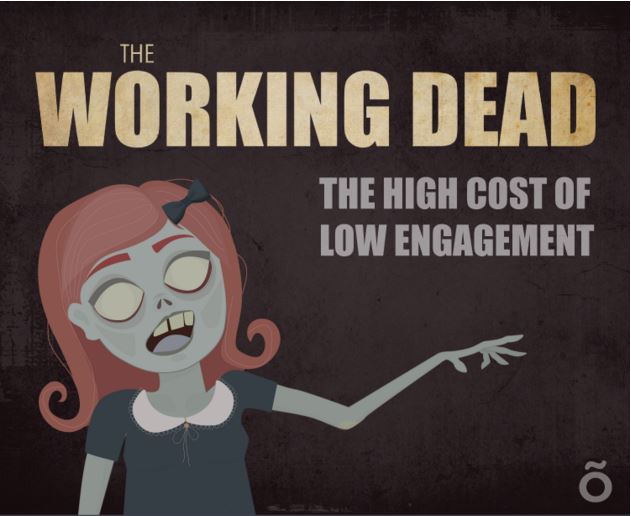 For the Dreamer: 8 Team Building Activities To Boost Employee Engagement from Good & Co's Career Insights section. This article focuses on activities ranging from low-cost and quick to relatively high-cost and time consuming. A lot of large and innovative companies have taken this approach. We're looking at you, Google. While I'm sure employees love free food, nap pods, and concierge service, it can be difficult for smaller companies to invest in these types of programs.
For the Lover of Simplicity: 3 Things Every Manager Should Do to Engage Your Team from AnyPerk. Here we see less about specific actions and more about general outlook and managing relationships. It's written for those that favor a simpler program and aren't looking to spend an arm & a leg. "Keeping a workforce engaged doesn't have to break the bank. Whether you're a growing startup competing for talent or a Fortune 500 company strengthening its employer brand, the most basic path toward a healthy, happy workforce is building meaningful social relationships." The most important relationship of all? The one between manager and employee. Research suggests that manager relationships and policy decisions weigh most heavily on overall engagement and this article offers tips for making these relationships that much more tight. Be my BFF!
For the Realist: Help Your Team Manage Stress, Anxiety, And Burnout from the Harvard Business Review. Any glass is half full/half empty type will tell you that work in today's 24/7 world is demanding. "In our high-pressure workplaces, staying productive and engaged can be challenging." And it's unlikely that this will change any time soon. Let's use science to choose the best ways to prevent the mental and emotional fatigue that's so common in the disengaged. One innovative suggestion is using "mindfulness." The author even singles out a few apps for trying it out yourself.
For the Pessimist: The 5 New Rules of Employee Engagement from Inc. After four solid tips for upping employee engagement, this article's 5th rule for employee engagement is: "Actually, Don't Worry about Engagement." Basically, with all the advice out there, the author feels that there's not much you can actually do to tip the scales in your favor and doing too much of one thing or another might put an elephant on the wrong side. "It's tempting to respond by throwing up your hands in despair and doing nothing, or by overcompensating and turning your office into a goofy playpen for coddled employees." In the end, the article suggests that just treating people well is the best policy. Alriiiiiighty then!
What We Can Learn From This:
Throughout these articles are five common themes that come up again and again. If you're feeling a little confused about what's best for your business, you can't go wrong with borrowing some techniques from this list:
Encourage them to Take Breaks

Be Kind (Treat them Well; Be Compassionate)

Give them Autonomy & Room to Grow

Inspire them to Exercise & Make Wellness a Priority